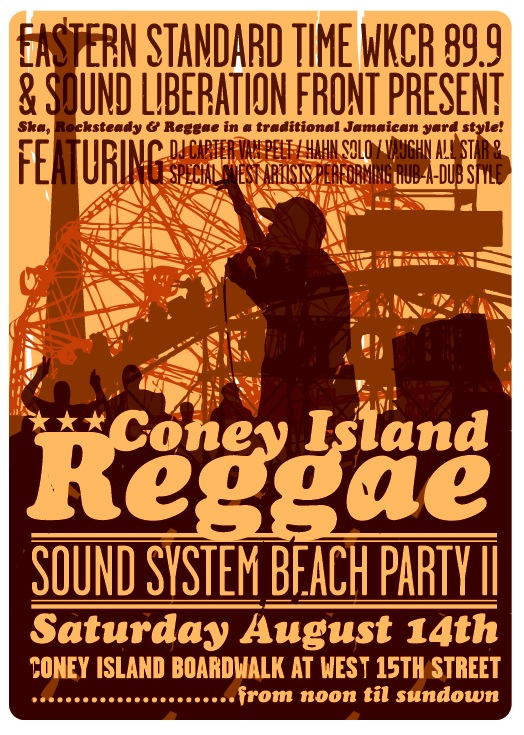 WKCR's Eastern Standard Time + Sound Liberation Front present:
[[ CONEY ISLAND REGGAE SOUND SYSTEM BEACH PARTY II ]]
Ska, Rocksteady and Reggae on the beach in a traditional Jamaican yard style!
SATURDAY | 14 AUG 2010
noon to sunset | FREE | All ages
@ the Coney Island Boardwalk at W. 15th Street
Brooklyn, NY 11224
By Train:
The D, F, N, and Q all stop at Coney Island/Stillwell Avenue, and it's a short stroll to the boardwalk from there, and you head in the direction of Nathans and the red Parachute Jump Tower and the pier. Listen for the music — you'll hear it and then see people dancing!!
maps: google
/// WKCR's Eastern Standard Time and the Sound Liberation Front team up to present CONEY ISLAND REGGAE SOUND SYSTEM BEACH PARTY II on the Coney Island Boardwalk. The all-day event (from noon to sundown) is free and will feature live DJs and special guest artists combining to bring the enormously influential culture of Jamaican sound systems to the Brooklyn beach.
Among the featured DJs for the event are DJ CARTER VAN PELT, host of Eastern Standard Time; HAHN SOLO, lead guitarist and dub engineer for Dub Is A Weapon; and VAUGHN ALL STAR, a selector for King Crown International sound system.
Sound systems took over from orchestras in Jamaican dancehalls in the 1950s and became part of nearly every development in Jamaican music: Ska, Rocksteady, Reggae, Dancehall and so on. Because sound system dances were one of the few things poor people on the island could call their own, the parties became central to downtown life and the local economy. Competition for the best equipment and the most exciting music was fierce and became the driving force behind the evolution of the island's music industry as sound system owners turned to record producing.
For fifty years, the natural medium for Jamaican modern music has been the sound system dances. The music was produced and designed specifically for sound systems to play, and for the enjoyment of the people attending the dances. Wherever Jamaicans have traveled, from London to New York and beyond, sound systems have been part of their luggage. The legacy of sound system culture can be found in many forms of popular music around the world.
Come join us and enjoy the sound system culture, the boardwalk, the beach, the pier, and the perfect soundtrack to the season. ///
featuring:
[[ DJ CARTER VAN PELT ]]
( WKCR's Eastern Standard Time )
[[ HAHN SOLO ]]
( Dub is a Weapon )
www.dubisaweapon.com
[[ VAUGHN ALL STAR ]]
( King Crown International )
plus special guest artists performing in a rub-a-dub style
+ facebook event page
+ going.com: www.going.com/coneyislandreggae_aug14
+ eventful: bit.ly/dy59zF
+ culturemob: bit.ly/9UKOLc
+ upcoming: bit.ly/9CaWjx
+ coopr8: bit.ly/cU2cy1