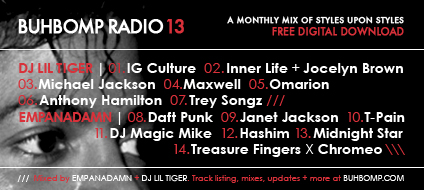 For our 13th episode, DJ LIL TIGER starts things off with a love-themed Soul set with splashes of classic disco and contemporary R&B. EMPANADAMN holds it down in the second half with a mesh of synthy dance, pop, Hip-Hop and electro.
[audio:http://feeds.feedburner.com/~r/buhbomp/~3/545019178/13buhbomp.mp3|titles=13 buhbOmp – 21 feb 2009 – dj lil tiger and empanadamn]
Also check out some of our previous episodes:
episode 12: EMPANADAMN and DJ LIL TIGER
episode 11: EMPANADAMN and DJ LIL TIGER
episode 10: STARSIGN
epsiode 09: DJ LIL TIGER
episode 08: EMPANADAMN
episode 07: EMPANADAMN
episode 06: WITNES & SQUINCY JONES
More episodes available at our podcast archives.