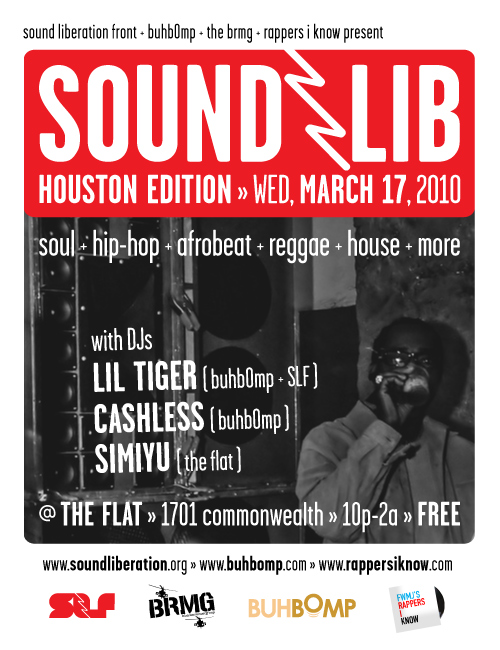 Sound Liberation Front + buhbOmp + The BRMG + Rappers I Know present:
FOR ALL OUR HOUSTON PEOPLES:
You know what? SXSW is in Austin. However, where we live is called Houston. Unless you're independently wealthy or lucky enough to take a few days off and go party like an idiot for the rest of next week, you're stuck here. Blah.
REMEDY: The good folks at BuhbOmp, Sound Liberation Front, Rappers I Know and The Flat give you a reason to smile amid your sulking, ass-hurtedness and sourpussing. (REMIX!!!!)
Afrobeat, Disco, Reggae, Funk, Hip-Hop, House, Soul, and more. Drink specials all night: $2 domestics, $3 wells and $4 frozen mojitos.
Plus, the party is FREE. Beat that.
[[ SOUNDLIB: HOUSTON EDITION ]]
WEDNESDAY | 17 MAR 2010
10p-2a | FREE | No dress code
@ The Flat
1701 Commonwealth
Houston, Texas 77006
713.521.3528
maps: google
featuring:
[[ DJ LIL TIGER ]]
( –=(] buhbOmp [)=–, Sound Liberation Front, touch&feel:radio, Soular Grooves )
[[ CASHLESS ]]
( –=(] buhbOmp [)=– )
[[ SIMIYU ]]
( The Flat )
+ going.com: www.going.com/soundlib_houston
+ eventful: bit.ly/dCx5oG
+ culturemob: bit.ly/bWwCcj
+ upcoming: bit.ly/d0TTRM