Way back before the interwebs and series of tubes, people used to trade/barter rap goodies on cassettes or record music straight from radio shows. Well, some people may have been messing around with girls or avoiding playing Bill Walsh College Football and NHL 94 like the meaning of life was trapped inside the game … but those people missed out. Ahem, moving on.
I think I became an official tape barterer with many of the people on this site (looking at you Lil Tiger, Cashless, K. Orr), plus we all had our own connections spread out around the world that would bring us a few treats from time to time.
Back in the day, we would treat these like buried treasures, playing them on our radio shows (usually complete with us talking over a part of it, just to be assholes or protect our "exclusives"). Seems kinda funny now in the mpfree age, I know. So anyway, I've had these tapes sitting around for many years now and have always wanted to digitize them. This is tape one in the process. I'm going to try and put up one or two every week or so, the "or so" being in place to protect me from ridicule when I post vol 2 up six months from now.
I've included a pic of the tape case below, which gives you a track listing. Comically, this tape was titled, "Some Shit U Ain't Got!!!". Yes, with the "U" and the three exclamation marks. Clever naming FAIL, indeed. My favorites include the Nas freestyle–the third verse is banana mango hotness (inside joke alert), plus the "you better get it on time kid" line was used often by me back in the day for no reason. The Mr. Voodoo songs also are nice, Voodoo was way too slept on for that time.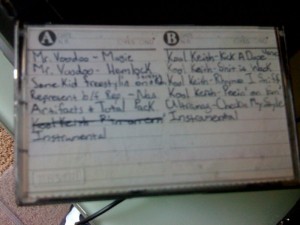 Track Listing:
Mr. Voodoo – Magic
Mr. Voodoo – Hemlock
Stretch & Bobbito – A random freestyle that "Chill" Will Strickland (Houston folks definitely know the name) was really feeling and dubbed for me.
Nas "freestyle"
Artifacts & Total Pack
Instrumental
Kool Keith – Kick a Dope Verse
Kool Keith – Shit is Wack
Kool Keith – Rhymes I Sniff
Kool Keith – Peein' on Em'
Ultramgnetic MC's – Checkin My Style
Instrumental
Download: Some Shit U Ain't Got!!! Cassette
[audio:http://www.buhbomp.com/audio/misc/Some-Shit-U-Aint-Got-Cassette.mp3|titles=Jansport Music Vol. 1]