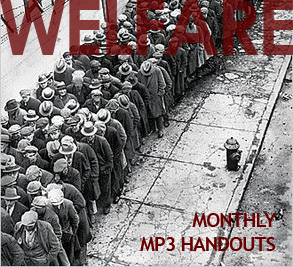 We, like all the other decent people in the world, have been profoundly affected by Michael's passing. I still can't really believe it. So this month's Welfare is dedicated to the man who changed all of our lives for the better. None of us would be DJing right now if it wasn't for this man's music.
(Click the song names to take you to the off-site sharing pages where you can download the tunes. For detailed instructions on how to navigate the sharing sites where we host our files, we've got instructions at the end of this post)
empanadamn | MJ ALL DAY
I'm not that into the re-workings of masterpieces, but these are a few standouts that I feel are worthy of sharing. enjoy.
Michael Jackson "I Can't Help It" (Tangoterje Re-Edit)
A jazzy, midtempo re-edit that adds a little kick by Oslo's Todd Terje. Check the breakdown and build up. Perfect!

Michael Jackson "Never Can Say Goodbye" (Beatnick & K-Salaam Remix)
New York producer / DJ duo Beatnick & K-Salaam come correct with their take on a Jackson 5 gem.

Floetry "Butterflies"
Originally written by Marsha Ambrosius of English duo Floetry as a single for Michael Jackson's Invincible in 2001, this track was later released on their debut Floetic the following year.

Michael Jackson "Rock With You" (Joey Honey Late Remix)
A dark, downtempo to uptempo and back again rendition (with a dash of dubbyness) of a normally funky track by buhbOmp resident producer Joey Honey.

Michael Jackson "Baby Be Mine"

My favorite! No remix, re-edit or revamping necessary for this feel good, dance jam.
—————
dj lil tiger | MJ ALL DAY x 2
Jackson 5 – It's Great To Be Here (Remix)
Guaranteed happiness every time I play this tune. Off of the Maybe Tomorrow LP. DJ-friendly intro on this remix.

Michael Jackson – Working Day & Night
One of my favorite joints from the masterpiece Off The Wall

Michael Jackson – I Wanna Be Where You Are
A gem from Michael's solo debut in 1972, Got to Be There

Michael Jackson – Billie Jean (Original 12″ Version)
In all it's extended glory.

Jackson 5 – Dancing Machine
Classic. Classic. Classic. It's the gift that keeps on giving.

—————
cashless | Streef Sweefper
Michael Jackson – Don't Stop Til You Get Enough (Tim & Tim Edit)
Try to find something about "Tim & Tim" online, I dare you. That's not what matters here. What does matter here is that this funky updated italo-ish is business. Cop accordingly.

De La Soul – Breakadawn
When world's collide, beauty happens. De La employs a fairly straight forward sample of the intro to MJ's I Can't Help It and the rest is magic.

Michael Jackson – Hot Street (U-Tern edit)
Another excellent Michael Jackson re-edit by U-Tern. You might not have heard "Hot Street" before, but here's a little background for ya.
Written by Rod Temperton and failed to make Michael's album, Thriller, as Temperton and Quincy Jones didn't feel it was strong enough.
Jackson 5 – We're Almost There (Dj Spinna remix)
A great remix, although I think it loses some of the emotion of the original.

The Jackson 5 – Body Language (King Most intro edit)
Some strong funk on this joker! The horns are big, the bass heavy… This stomper was made to move people and King Most helps the dj's deliver it to the masses!

Bonus: Luda X The Jackson 5 – Body Language / Slap

—————
Don't forget to check out our Welfare archives.
—————
** INSTRUCTIONS FOR DOWNLOADING **
We host all our Welfare downloads off-site, so what you need to do to download them is to click on the song name in the post, and then look for a download link on the page that that takes you to.
We mostly use divShare, so for divShare follow these steps to download the songs:
– Click on the name of the song. That will take you to a divShare page.
– On the divShare page, look for the black circle with an arrow pointing down. Below that arrow is a link that says "Download original". Click that link and after a few seconds, the download should start automatically.
That should do it.
If the file is hosted on some other site besides divShare (like ZShare or MediaFire or something) then just look for a link on that site's page that says download. When you click on the download link, it will probably do something similar to divShare and make you wait a handful of seconds before it starts the download (or offers a specific link to the download).
Hit us up in the comments if you need further instruction. We're here to help. Thanks.