Juste Debout's U.S. finals are back in NY this week, which means poppers, lockers, house and hip-hop dancers, and boogie bodies in general will invade the city to flex their best dancefloor skills for a chance to rep the U.S. in Paris at the world finals next year.
And as a bonus, the good folks at Space Invading Stinky PPL and Hype Life Music are throwing a massive after-party at The Marlin Room in Webster Hall featuring an incredible lineup of DJs and some of the best Hip-Hop, House, Funk, Classics and more to keep you moving deep into the night.
Headlining the bill is world-renowned DJ and tastemaker RICH MEDINA, the legendary founder of Jump N' Funk, Lil Ricky's Rib Shack. He'll be joined by one of Philly's finest, Red Bull 3style East Coast Champion and Illvibe Collective heavyweight DJ PHSH. Also on the decks will be one of my favorite house music artists, Sole Channel Music label head, MR. V.
Rounding out the lineup will be yours truly, DJ LIL TIGER, host of WHCR 90.3fm's weekly Impulse Travels Radio Show, and France's Detroit transplant, MR. BEE.
This thing will get packed, and it's gonna be all kinds of good. Hope to see you there.
Here's the detailed info:
———-
Space Invading Stinky PPL + Hype Life Music present:
[[ INVASION: THE OFFICIAL JUSTE DEBOUT USA AFTER-PARTY ]]
SUNDAY | 08 DEC 2013 | 10p-4a | $15 ($10 adv) | 19+
The Marlin Room @ Webster Hall
125 E 11th St (between 4th & 3rd Aves)
New York, NY 10003
212.353.1600
6 to Astor / L to 3rd Ave / N Q R 4 5 to Union Square
» google
music by:
+ RICH MEDINA
+ PHSH
+ MR. V
+ DJ LIL TIGER (Impulse Travels)
+ MR. BEE
» Tickets available at: TicketWeb
$10 advanced ticket (or with Juste Debout USA bracelet)
$15 at the door
———-
And here's the flier for the JUSTE DEBOUT USA FINALS: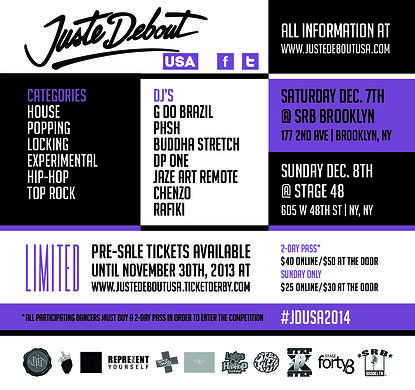 And for a taste of how folks get down at Juste Debout, peep this video from the Hip-Hop competition earlier this year: