Labor Day weekend is upon us once again, and to help you close out the summer, this SUNDAY [8/31] we've got another installment of Sound Liberation Front's popular bites-meets-beats backyard party RUB-A-GRUB at DO OR DINE in Bed-Stuy featuring yours truly, DJ LIl TIGER, alongside heavyweights DJ STILL LIFE (STR8 West Coastin/Worldwide Smash) and DJ AKALEPSE (Truth & Soul/Plane Jane).
Along with the feel-good DJ party vibes, there will be drink specials and a unique food menu curated by Do or Dine's gifted culinary genius and Food Network star Justin Warner.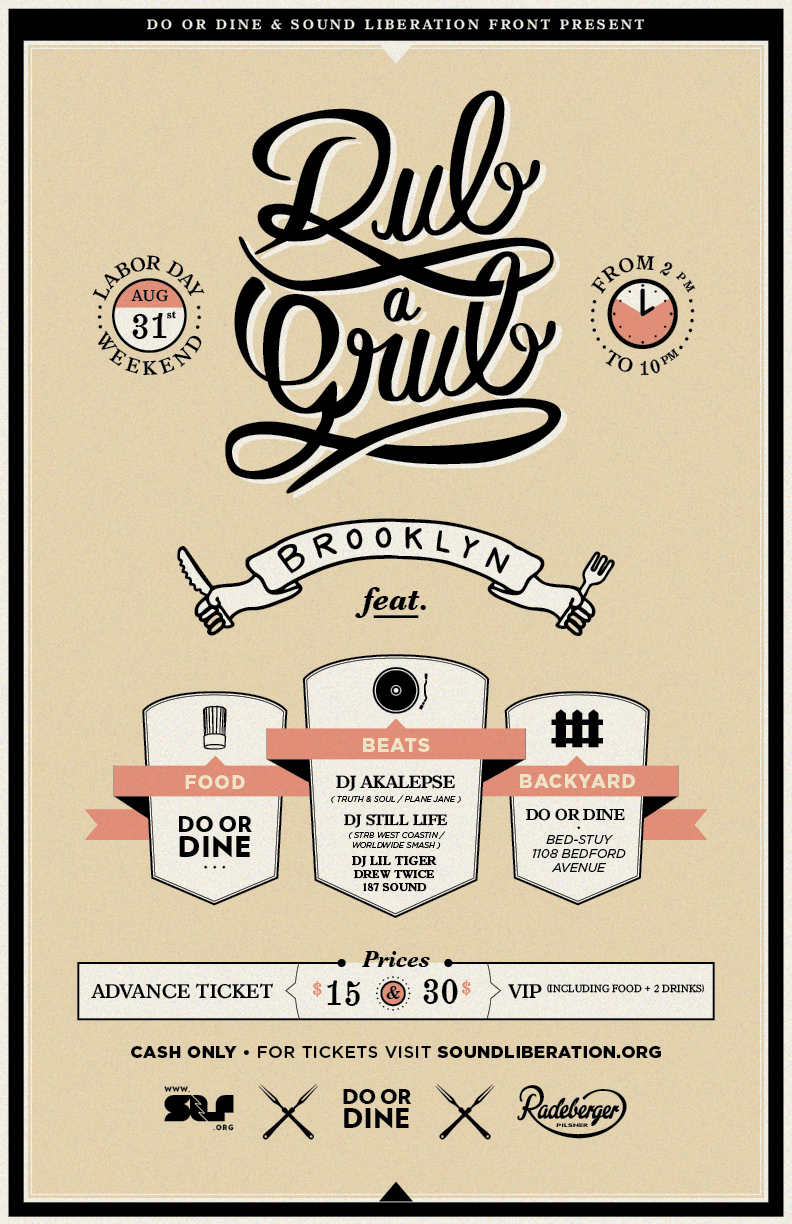 [[ RUB-A-GRUB: LABOR DAY WEEKEND 2014 ]]
w/ DJ STILL LIFE and AKALEPSE
plus LIL TIGER, DREW TWICE and 187 SOUNDSYSTEM
SUNDAY | 31 AUG 2014 | 2p-10p | $15/$30 (VIP)
@ Do or Dine
1108 Bedford Ave
Brooklyn, NY 11216
718.684.2290
+ PURCHASE TICKETS HERE +
$15 general admision
$30 VIP ticket – includes 2 food items + 2 drinks (beer & wine)
———-
Here's more info from the folks at SLF:
Do or Dine and Sound Liberation Front are teaming up again for RUB-A-GRUB, a food and music backyard party featuring DJ Akalepse (Truth & Soul/ Plane Jane) and DJ Still Life (STR8 West Coastin/ Worldwide Smash) and a three part menu crafted by Do or Dine's chefs.
The event will kick-off in the afternoon and feature three rounds of food and drinks, each coupled with different DJ sets. There will be drink specials and a unique food menu by Do or Dine's chef, Justin Warner.
Obsessive crate digger DJ Akalepse is known for running the full spectrum of soul music. Together with Rich Medina, he hosts the widely respected weekly NYC party PROPS. Before that he was Resident DJ at the legendary and now closed NY Venue APT. Coming up as a Battle DJ, Lepse learned early the importance of moving the crowd. His humility and endless respect for music has garnered him accolades in soul, funk and hip hop circles the world over. With a heavyweight stash of 20,000+ records he plays classic tunes right next to obscurities, always pushing the listening audience a little in a sincere effort to break new records and reintroduce slept on tunes simultaneously. Akalepse has also put his vinyl passion into his role as label manager/ A&R of Brooklyn-based Truth & Soul Records, famous for releasing hot wax from artists like El Michel's Affair or Lee Fields.
DJ Still Life is a member of a dwindling tribe: DJs who learned the craft on turntables and vinyl, and were raised on dubbed mix cassettes in the rapid fire cut-and-paste tradition of the Bronx forefathers. Whether spinning golden era hip-hop, brand new electronic productions, vintage rarities, or club essentials, Still Life puts a premium on presentation and inventive mixing. His current regular gigs include a throwback boogaloo party Jackpot! with DJ Small Change, and a summertime West Coast hip-hop daytime BBQ.
Do or Dine has been paving an innovative culinary trail in Bed-Stuy since in 2011, receiving wide acclaim for their fun and eccentric approach to cuisine or "fine diving" as the owners coined it. NY Magazine notes, "nothing is as straightforward as it seems. There are (savory) doughnuts stuffed with foie gras mousse, and fried dumplings under a veil of melted cheese an Asian-fied play on nachos."
DO OR DINE
www.facebook.com/DoOrDine
www.twitter.com/do_or_dine
SOUND LIBERATION FRONT
www.soundliberation.org
www.facebook.com/soundliberation
www.twitter.com/soundliberation