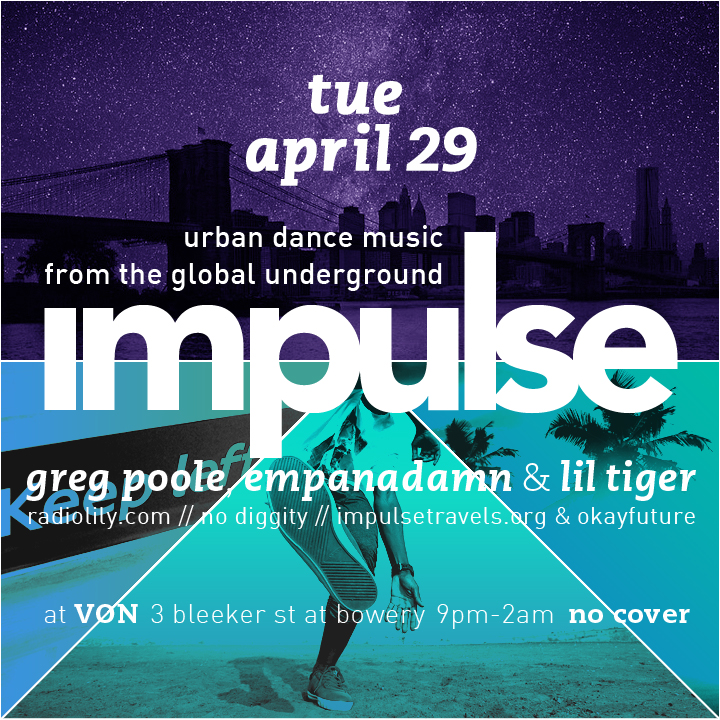 [[ IMPULSE ]]
w/ DJ LIL TIGER, EMPANADAMN + DJ GREG POOLE
TUESDAY | 29 APR 2014 | 9p-2a | NO COVER
› a night of eclectic urban underground, future bass, house, broken beat, UKG and other soulful electronic gems similar to the global sounds you hear every week on IMPULSE TRAVELS on WHCR 90.3fm. ‹
VON
3 Bleecker St (between Elizabeth and Bowery)
New York, NY 10012
212.473.3039
6 to Bleecker St
B D F M to Broadway-Lafayette
» google | hopstop «
» facebook invite «
music by:
+ DJ LIL TIGER +
[ Impulse Travels | Okayfuture | buhbOmp ]
Caribbean-born, Houston-raised, Queens-based DJ Lil Tiger cultivates his soulful sound from a blend of r&b, funk, disco, house, broken beat, soca, dancehall, afro-latin rhythms, future bass and hip-hop. He's the founder and co-host of IMPULSE TRAVELS and a contributing writer to Okayplayer's OKAYFUTURE.
+ EMPANADAMN +
[ No Diggity | buhbOmp ]
Co-host of IMPULSE TRAVELS and founder of NYC's popular NO DIGGITY party.
+ DJ GREG POOLE +
[ Radio Lily ]
Veteran downtown NYC DJ Greg Poole is known for his wide repertoire and eclectic sets. Also know as a champion of UK underground music, Greg has spent much of the past decade in London spinning house, garage, grime and more. He can currently be heard on RADIO LILY every Saturday spinning his mix of classic, new and eccentric versions of reggae.