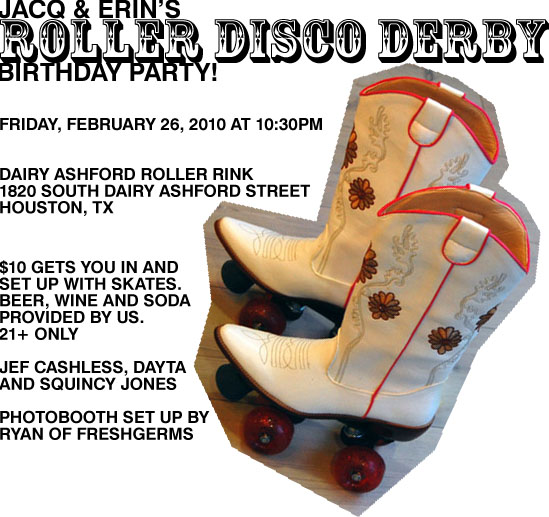 Bounce!! Rooooooooooock!! Skate!! Roooooooooooll!!
Come out and celebrate Erin and my birthday this Friday. $10 gets you in and set up with skates. Beer and wine will be provided. Noise provided by Dayta, Jef Cashless and Squincy Jones. Photobooth by Freshgerms.

Roller disco derby themed, so I want to see short shorts, fishnets and loud make up!
I'm pretty excited about this one! Primarily because it's my first roller rink gig ever and secondly because we'll be rocking nothing but disco, disco re-edits, modern soul/boogie all night long! Roller skate jams in full effect!!! Oooh and free beer and wine with your entry fee?!! What? For serious? Yey mayne, for serious!
You miss this, you lose. Period!
Info:
Jacq& Erin's Roller Disco Derby @ Diary Ashford Roller Rink
Friday, February 26th 2010
10:30 pm – 2am
1820 South Dairy Ashford Street
Houston, TX 77077-4702
(281) 493-5651