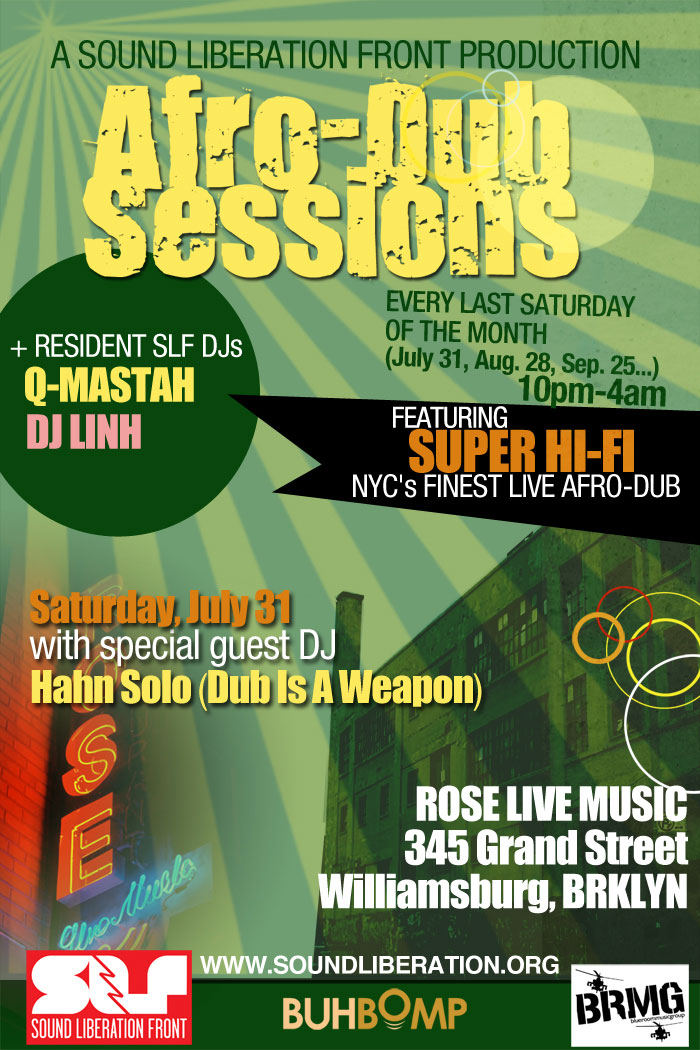 Sound Liberation Front + The BRMG + buhbOmp presents:
[[ AFRO-DUB SESSIONS ]]
Sounds of the Rhythm R(evolution)
SATURDAY | 31 JUL 2010
(and every last Saturday of the month)
10p-4a | NO COVER | No dress code
@ Rose Live Music
345 Grand Street
Brooklyn, NY 11211
– Between Marcy Ave. and Havemeyer St. in Williamsburg
– G/L train to Lorimer or the L to Bedford)
718.599.0069
maps: google | hopstop | yahoo
/// This month's AFRO-DUB SESSIONS will feature HAHN SOLO (aka Dave Hahn), best known as the lead guitarist and dub engineer for DUB IS A WEAPON, a group that has toured throughout the United States and Canada with heavyweight dub legends Lee "Scratch" Perry and Scientist. HAHN SOLO has quickly made a name for himself as a roots reggae and dub selector who serves up his favorite cuts strictly on vinyl at NYC hot spots like the Bowery Ballroom, APT, Southpaw, and the Mercury Lounge. He also has made guest appearances on WKCR-FM.
The night also will feature two performances by SUPER HI-FI, New York's hottest Afro-Dub band which has been rocking it each month with their creative melding of Afrobeat and Dub.
SLF resident DJ's LINH and Q-MASTAH will keep the party popping on the decks. And of course, the party is FREE all night long. ///
featuring:
[[ HAHN SOLO ]]
( Dub is a Weapon )
www.dubisaweapon.com
w/ resident live Afro-Dub band:
[[ SUPER HI-FI ]]
( w/ members from Aphrodesia, Slavic Soul Party, The Superpowers and Blue Man Group )
and SLF residents:
[[ DJ LINH ]]
[[ Q-MASTAH ]]
+ facebook event page
+ going.com: www.going.com/afrodub_jul31
+ eventful: bit.ly/bJgpua
+ culturemob: bit.ly/afBMMT
+ upcoming: bit.ly/avACsj
+ coopr8: bit.ly/9syBUZ