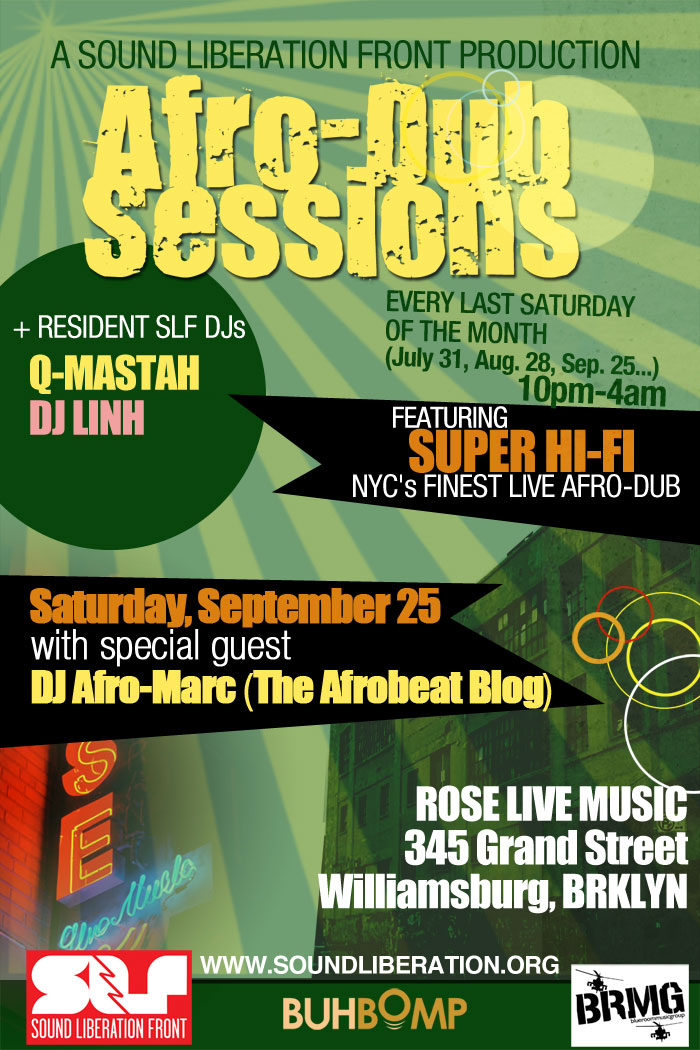 Sound Liberation Front + The BRMG + buhbOmp presents:
[[ AFRO-DUB SESSIONS ]]
Sounds of the Rhythm R(evolution)
SATURDAY | 25 SEP 2010
(and every last Saturday of the month)
10p-4a | NO COVER | No dress code
@ Rose Live Music
345 Grand Street
Brooklyn, NY 11211
– Between Marcy Ave. and Havemeyer St. in Williamsburg
– G/L train to Lorimer or the L to Bedford)
718.599.0069
maps: google | hopstop | yahoo
/// This month's party will feature DJ AFRO-MARC, renowned for his two popular online outlets, The Afrobeat Blog (http://afrobeatblog.blogspot.com) and The Afro-Marc Podcast (http://djafromarc.podomatic.com), where he has been spreading his love and knowledge of African music and all things funky. Afro-Marc has promoted and spun at parties featuring some of the area's best African-inspired music artists such as Chico Mann, Superhuman Happiness, Ikebe Shakedown, and Akoya Afrobeat Ensemble. As a writer, he has interviewed African legends Tony Allen, Salif Keita and Femi Kuti, as well as newer African-inspired artists Bajah and the Dry Eye Crew and Antibalas, among others. He also covers world music as a regular contributor to The Huffington Post.
As it does every month, Afro-Dub Sessions will also feature a pair of live performances by resident band SUPER HI-FI, which has been packing the house with their creative melding of Afrobeat, Dub, live remixing and special guest appearances. The five-piece collective features members of Aphrodesia, Slavic Soul Party, The Superpowers, and the Blue Man Group.
SLF's resident DJs LINH and Q-MASTAH will bring their diverse musical selections to the turntables to round out the night.
And of course, the party is FREE all night long. ///
featuring:
[[ DJ AFRO-MARC ]]
( The Afrobeat Blog, The Afro-Marc Podcast )
afrobeatblog.blogspot.com
djafromarc.podomatic.com
w/ resident live Afro-Dub band:
[[ SUPER HI-FI ]]
( Super Hi-Fi on Facebook )
and SLF residents:
[[ DJ LINH ]]
[[ Q-MASTAH ]]
+ facebook event page
+ going.com: www.going.com/afrodub_sep25
+ eventful: bit.ly/bW2lb7
+ culturemob: bit.ly/b7Wd2J
+ upcoming: bit.ly/d4ey9v
+ coopr8: bit.ly/9uOCDB