MWB x Kush x Russian Standard Vodka present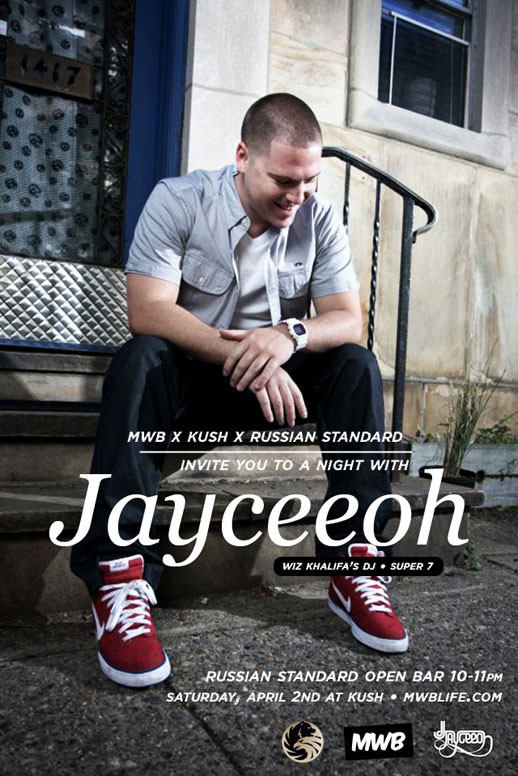 Saturday, April 2, 2011
JAYCEEOH
(Wiz Khalifa's tour DJ, McDonald's Flavor Battle Champ, Super 7 creator)
www.facebook.com/pages/DJ-JayCeeOh/171208483634
jayceeoh.blogspot.com/
@ Kush Lounge
191 Chrystie Street (between Stanton and Rivington Streets)
Lower East Side
New York, NY, 10002
212.677.7328
F to 2nd Ave or the J to Bowery
x x x x x x x x x x x x x x x x
JayCeeOh, tour DJ for Wiz Khalifa and winner of the 2011 McDonald's National Flavor Battle, makes his way back to NY to rock it with the MWB crew. He recently took his talents to the West Coast, so we'll call this a bit of a homecoming for our friend. He'll be coming to us live right after a successful tour across the EU and after shows in Austin for SXSW. We're psyched to have him because he's without a doubt one of the most in-demand DJs in the country. Dude's been killin' it!
Check out some video clips of JayCeeOh in action:
www.youtube.com/user/JayCeeOH
The MWB Crew, Kunal Merchant & Seif Al-Din, will set things off before JayCeeOh hits the decks.
x x x x x x x x x x x x x x x x
Known as the best selling vodka in Russia – which actually says quite a bit – Russian Standard will be on board, hooking you up with free drinks from 10-11pm and we'll have them as our featured bottle special of the night. Message any of the admins on the facebook invite for a great deal if you want to rock a table or booth the night of, or if its your b-day, or if you want to reserve space for your crew.
The drinks start pouring at 10, so come prepared. Kush is the destination, and as usual, you can order food early and hookahs all night. Ask for the MWB special and they'll take care of you.
Your RSVP Matters: so make sure you do, or you may get charged at the door.
=======> RSVP HERE <=======