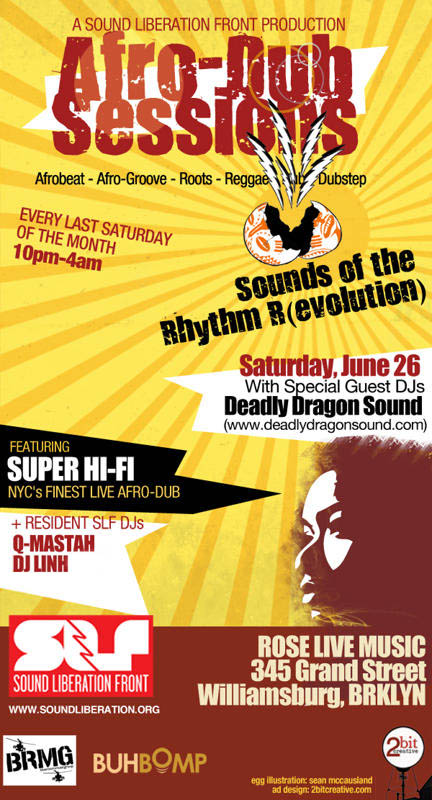 Sound Liberation Front + The BRMG + buhbOmp presents:
[[ AFRO-DUB SESSIONS ]]
Sounds of the Rhythm R(evolution)
SATURDAY | 26 JUN 2010
(and every last Saturday of the month)
10p-4a | NO COVER | No dress code
@ Rose Live Music
345 Grand Street
Brooklyn, NY 11211
– Between Marcy Ave. and Havemeyer St. in Williamsburg
– G/L train to Lorimer or the L to Bedford)
718.599.0069
maps: google | hopstop | yahoo
/// This month's AFRO-DUB SESSIONS will feature a guest DJ set by New York reggae specialists DEADLY DRAGON SOUND SYSTEM. Since migrating from Chicago 12 years ago, the DJ collective, whose members include Scratch Famous, Selector JD, Queen Majesty, and Mr. K, has become a major player in New York's richly populated reggae scene with numerous residencies, a weekly radio show on East Village Radio, and the group's world renown record shop at 102-B Forsyth St. in Chinatown. DEADLY DRAGON is also known for its live events featuring performances by some of the biggest names in reggae, including Johnny Osbourne, Yami Bolo, Mighty Crown, Down Beat, Stone Love, Shabba Ranks and much more.
The night also will feature two performances by SUPER HI-FI, New York's hottest Afro-Dub band which has been rocking it each month with their creative melding of Afrobeat and Dub.
SLF resident DJ's LINH, Q-MASTAH and LIL TIGER will keep the party popping on the decks. And of course, the party is FREE all night long. ///
featuring:
[[ DEADLY DRAGON SOUND SYSTEM ]]
( deadlydragonsound.com )
www.deadlydragonsound.com
w/ resident live Afro-Dub band:
[[ SUPER HI-FI ]]
( w/ members from Aphrodesia, Slavic Soul Party, The Superpowers and Blue Man Group )
and SLF residents:
[[ DJ LINH ]]
[[ Q-MASTAH ]]
+ facebook event page
+ going.com: www.going.com/afrodub_jun26
+ eventful: bit.ly/9ujJTF
+ culturemob: bit.ly/aYpvEh
+ upcoming: bit.ly/daxqlV
+ coopr8: bit.ly/cFkvoc