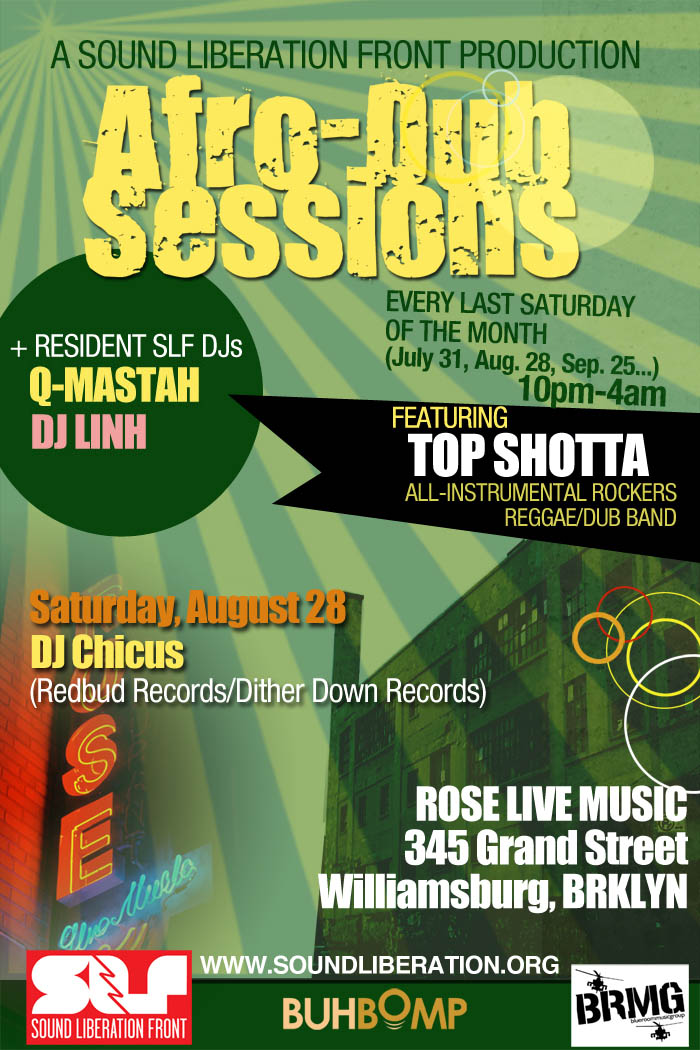 Sound Liberation Front + The BRMG + buhbOmp presents:
[[ AFRO-DUB SESSIONS ]]
Sounds of the Rhythm R(evolution)
SATURDAY | 28 AUG 2010
(and every last Saturday of the month)
10p-4a | NO COVER | No dress code
@ Rose Live Music
345 Grand Street
Brooklyn, NY 11211
– Between Marcy Ave. and Havemeyer St. in Williamsburg
– G/L train to Lorimer or the L to Bedford)
718.599.0069
maps: google | hopstop | yahoo
/// This month's AFRO-DUB SESSIONS will feature Redbud Records founder DJ CHICUS, who through his label has released dub, roots, dancehall and electronic 12″s and 45s with contributions from such producers as Ticklah, Victor Rice, Biggabush, Zeb, Inverse Cinematics, Al-Haca Soundsystem and others. As a DJ, Chicus has performed internationally with artists such as Jazzanova, Daz-I-Kue, Domu, Vikter Duplaix, Stereotyp and Sister Carol, and has manned the decks at NYC institutions such as Koncrete Jungle, Turntables-on-the-Hudson, Afrokinetic and Organic Grooves. Chicus and the Redbud crew also hosted the long-running DubTempo party in Brooklyn.
Also this month, Afro-Dub Sessions will feature live performances by special guests TOP SHOTTA. Led by trumpeter/producer djMush1 (formerly of the Slackers, Murphy's Law, Fireproof, and The Scorchers). Top Shotta is a Brooklyn-based rocksteady, reggae and dub seven-piece. The band gives new life to classic Jamaican riddims, and is fronted by legendary foundation dancehall singer PETER RANKS (of Barry G's Wha Dat Sound, Sons Junior and Terrorist Sound). SLF's resident DJs LINH and Q-MASTAH will bring their diverse musical selections to the turntables to round out the night.
And of course, the party is FREE all night long. ///
featuring:
[[ DJ CHICUS ]]
( Redbud Records )
www.redbudrecords.com/
w/ resident live Afro-Dub band:
[[ TOP SHOTTA ]]
( www.facebook.com/topshottaband )
and SLF residents:
[[ DJ LINH ]]
[[ Q-MASTAH ]]
+ facebook event page
+ going.com: www.going.com/afrodub_aug28
+ eventful: bit.ly/amHh3o
+ culturemob: bit.ly/cByE7L
+ upcoming: bit.ly/cXMAdp
+ coopr8: bit.ly/bC2Fr5