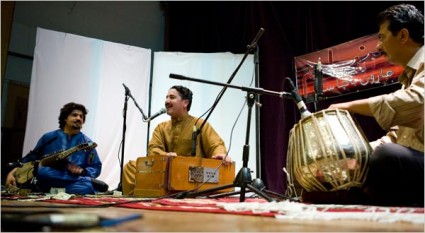 For those of y'all in New York this week, I can't recommend this event enough.
Writer and human rights activist Austin Dacey has put together this amazing event showcasing the musical talents of HAROON BACHA,
a Pashto singer who fled censorship and persecution from the Taliban and has made a new home for himself here in New York. Haroon will be performing this Wednesday at one of my favorite venues, littlefield in Gowanus, Brooklyn, as a prelude to Human Rights Day. Here's the info:
Music is a Human Right: A performance by Haroon Bach
WEDNESDAY, DECEMBER 9, 2009 @ 8pm | $10
Presented by Austin Dacey and co-sponsored by FREEMUSE: The World Forum on Music Censorship and the Center for Inquiry
@ littlefield
622 Degraw St.
Brooklyn, NY
A celebration of Human Rights Day featuring Haroon Bacha: The singer the Taliban tried to silence
Haroon Bacha is one of Pakistan's most celebrated Pashto singers. Because of his music's messages of tolerance and pluralism, he became a prime target of the Taliban's deadly campaign against music. In 2008, he was forced to flee the country, leaving behind his family, and seek asylum in New York City. Determined to continue making music, Haroon has recorded a new album and begun working with Radio Liberty in Washington, D.C., where he hosts cultural and musical programs with the Pashto service.
This will be Haroon's first concert for the general public in New York, and he will be accompanied by master musicians Mohammad Essa on the tabla and Pervez Sakhi playing the rabab.
You can get more info from the facebook event page. Tickets are available on Ticketfly or via the littlefield website.
For more on Haroon, check out his interview with Austin:
¬ On the Taliban's Hit List: An Exiled Pakistani Singer's Plea to Save Music
And here's a write up on Haroon from the New York Times last year:
¬ U.S. Refuge for Singer Fleeing the Taliban
** UPDATE **
Here's an interview SLF's Ezra Gale did with Austin Dacey recently, discussing music censorship, Haroon Bacha, and the upcoming The Impossible Music Sessions.
¬ Music as a Human Right, and a Weapon: an interview with Austin Dacey