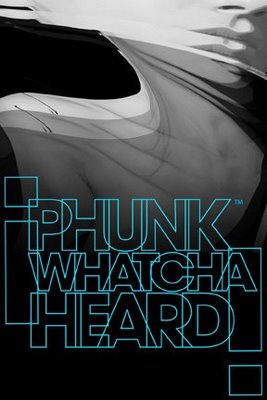 Phunkwhatchaheard! Radio, a weekly funk and soul show hosted by my man Jaekim StackCache which airs every Thursday* from 7-8pm Central Time on KTRU 91.7fm in Houston, just turned a year old this past week. To celebrate, Jae put together a one-year anniversary show Thursday that featured a special guest mix by Austin's DJ Chicken George — DJ, producer, and O.G. alum of Houston's acclaimed Soular Grooves Radio show.
Chicken George, who has two EPs out on Swedish Brandy (The Swed.u.s.h Connection, and The Swed.u.s.h Connection vol. 2), throws down a dope mix of modern funk with some heavy remixes of classic tunes. Check it out:
[audio:http://www.buhbomp.com/audio/friends/phunkwhatchaheardwk44_8_may_09.mp3|titles=Phunkwhatchaheard! Radio One-Year Anniversary Show feat. DJ Chicken George – 07 may 09]
¬ DOWNLOAD IT HERE
One-year anniversary episode tracklist (07 May 09)
mixed live by DJ Chicken George:
Greyboy f/ Sharon Jones – "Got To Be a Love" (Paul Nice Mix)
Kutiman – "No Groove Where I Come From"
El Michels Affair – "C.R.E.A.M."
Pure P – "Fonky President"
Lynn Collins – "Give it Up or Turn Me Lose"
Marvin Gaye – "What's Going On" (SHH remix)
Eddie Harris – "Bold & Black" (DJ Nu-mark remix)
Natural Self f/ Alice Russell – Dont Need This Trouble"
Nick Nack – "Do You Believe Me"
Thes One – "DBC Let The Music Play" (remix instrumental)
Ramsey Lewis – "Do What You Wanna" (Mr. Scruff's Soul Party remix)
United 8 – "Getting Uptown (To Get Down)"
Flow Dynamics – "Live in the Mix"
Archie Bell & The Drells – "Tighten Up" (Mophono remix)
The Bamboos – "Happy"
Breakout – "Planet Rock" (Pts 1 & 2)
Mellow Madness – "Save The Youth" (Kenny Dope remix)
There's a special historical twist to Chicken George and JaeKim broadcasting together on KTRU again. I first met both of these cats about 10 years or so ago at that same station.
Jae (who then went by the name Theory) was doing an underground Hip-Hop radio show at the time called the Twelve Inch Sub with a dude from Vancouver named Eddie Question. I was doing my own Hip-Hop show at KVRX in Austin in those days, and wanted to stop in and check out how folks were getting down back in my hometown. Jae and Eddie welcomed me into the studio where they were handling the mics and board duties. They introduced me to Chicken George, who was holding things down in the mix on the turntables.
Fast forward to '09, and there they are again in the same station where I met them — Jae on the boards, Chicken in the mix. Hearing them together on this anniversary show brings back old memories. It all comes back around.
Since that time, Chicken, Jae and I have all had our stints at DJ Sun's Soular Grooves, so I consider these cats part of my extended fam.
The Phunkwhatchaheard! anniversary celebrations continue in Austin on May 30, with Chicken George and DJ Starsign spinning along side Jaekim at Malverde: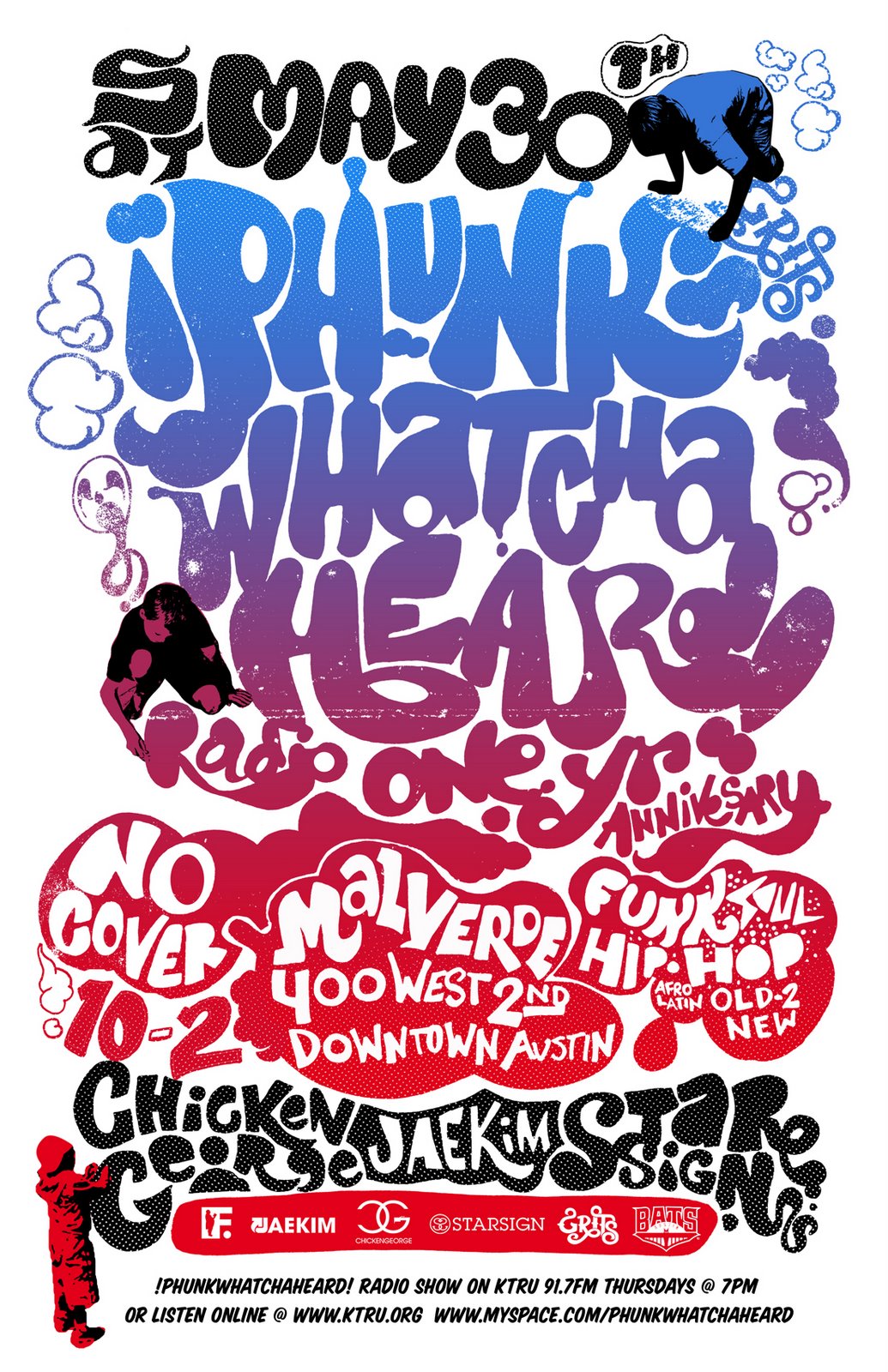 You can read more about JaeKim and Phunkwatchaheard! in the latest issue of Boy-Cott magazine. Just holler at the following PDF link and scroll down to page 8:
http://www.qeneticstorm.com/boy-cott/magazines/Boy-Cott_Magazine_issue_17.pdf
* Note: The show will be pre-empted for the next two weeks for Rice sports coverage, but they'll be back to their regular weekly schedule on May 28. So, mark your calendars and hit up the show's facebook and myspace pages for updates and links to the stream of the show.
Bonus: Here are some previous episodes to add to your collection:
week 43 (30 apr 09) feat. guest mix by DJ Pooks
http://www.sendspace.com/file/rgcxa8
Trus'me – Intro
Isaac Hayes – Ellie's Love Theme
Norman Connors – You Are My Starship
Billy Paul – Let The Dollar Circulate
Steve Spacek – Let The Dollar Circulate
Willie Hutch – Brother's Gonna Work It Out
Stevie Wonder – Boogie On Reggae Woman
Convertion – Let's Do It
Ignition – Secret Sunday Lover (Greg Wilson Edit)
Donald Byrd – Love Has Come Around (Discolexic Edit)
U-Tern – Give It Up
Bill Withers – Who Is He (Henrik Schwarz Remix)
Tom Browne – Funkin' For Jamaica (K2 Edit)
Roy Ayers – Brand New Feeling (Timmy Regisford Remix)
week 42 (23 Apr 09):
http://www.sendspace.com/file/pbiiyk
lee dorsey- "a lover was born"
daktaris- "musicawi slit" pt2
donald byrd- "think twice" (mizell brothers remix)
betty padgett- "sugar daddy" (instrumental extended mix)
the arch cupcake- "gutter snipe"
elmore judd- "rats"
shawn lee- "whatever side you're on"
towa tei- "taste of you" (feat. taprikk sweezee)
whodini- "magic's wand"
mr. scruff- "kalimba"
jazzy jeff- "house of tribe" (k-dope main mix)
dj kiva- "seven sisters"
sharon jones & the dap kings- "how long do i have to wait?" (ticklah remix)