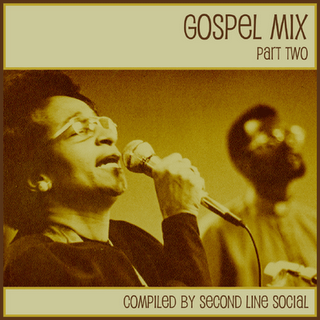 My good homie Gabe, a consummate crate digger, soul aficionado, and all-around awesome dude, dug deep in his music vaults and put together this incredible selection of gospel tunes.
[audio:http://www.rnb45.com/gabe/gospel_mix_part_2.mp3|titles=Gabe Vaughn – Gospel Mix Part 2]
¬ DOWNLOAD IT HERE (right-click and save as)
The tracklist can be found at the end of this post or on his blog. First, some backstory on my man Gabe.
Little known fact: My first ever DJ gig at a club was June 9, 2001 at a place on 6th Street in Austin called the Empanada Parlour. The party was to celebrate the launch of an online magazine/event promotions site called Suckarepellent.
The main event was outside on the big stage, with Bavu headlining a roster of Texas live acts and Firewheel quarterbacking the action on the decks.
My club debut took place in the small room indoors. There were four DJs on that bill. Three of us (myself, JD, and DJ Starsign) drove in from Houston the day before, making our way out of town just as Tropical Storm Allison came in and unleashed a hundred-year flood that practically drowned my hometown. The other DJ and lone official Austinite of the bunch, was a young dude named Gabe, who at the time went under the name Dr. Ekl.
I first met Gabe, then a producer and member of a collective of upstart MCs and writers called Arctectonics, through the radio show I used to do on KVRX called the House of Phat Beats.
I'd known him just as a young Hip-Hop kid, but that night at Empanada Parlour, he talked to me about his passion for older records. He did a set of funk and soul classics — Ohio Players, Marvin Gaye, stuff like that. I remember digging his set a lot.
Eight years later, Gabe is in DEEP. He's always had a voracious appetite for music, and a superb ear for finding treasures amongst the masses of styles and sounds floating out in the wild. He's made a name for himself as a member of the crews that host the The Second Sunday Sock Hop and the soon-to-be-renamed Waxploitation! parties in Austin.
Dude is really talented and knowledgeable, and you can tell that easily by listening to the selections he put together above. I used to play songs for him and his homeboys up at the radio show, but now (and really, for a long time now), I look up to him for what he knows and has taught me about music. I also feel blessed that on my first outing as a DJ, I witnessed an early stage of Gabe's musical journey, and that makes that night that much more special to me.
Enough of the sentimental stuff, tho. Scroll back up and download this mix. It's chock full of great tunes, and it will make you feel good about life.
The Consolers – Glad To Be In The Number (Nashboro)
CBS Trumpeteers – Milky White Way (Nashboro)
The Birds of Harmony – Oh What A Good Time (Gospel)
The Mighty Gospel Giants – Waiting (Savoy)
The Melody Kings – I'm Saved (Movin)
The Six Trumpets – Set Me Free (Nashboro)
The Zion Trumpeteers – Lord I'm In Your Care (Box)
The Bibletones – You Know My Heart (Gospel)
The Hi-Way Q.C.'s – What Makes A Man (Peacock)
The Salem Travelers – Help Me To Hold Out (HA-LO)
Bill Moss & Celestials – I've Got A Satisfied Mind (Bilesse)
Traveling Kings – Sing On (Nashboro)
The Five (5) Stars – Be Yourself (Note)
The Mighty Clouds of Joy – A Friend In Jesus (Peacock)
Elete Jewels – Wicked Race (Simpson)
The Bibletones – I've Got It (Gospel)
Bright Stars – Jesus Keep Your Arms Around Me (Nashboro)
The Hi Way Que C's – Lord Have Mercy (Peacock)
source: [
second line social
]