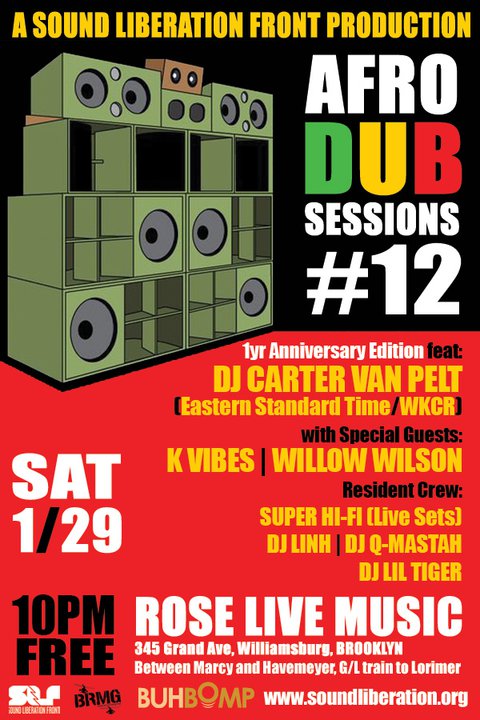 Sound Liberation Front + The BRMG + buhbOmp presents:
[[ AFRO-DUB SESSIONS: ONE-YEAR ANNIVERSARY ]]
Sounds of the Rhythm R(evolution)
SATURDAY | 29 JAN 2011
10p-4a | NO COVER | No dress code
@ Rose Live Music
345 Grand Street
Brooklyn, NY 11211
– Between Marcy Ave. and Havemeyer St. in Williamsburg
– G/L train to Lorimer or the L to Bedford)
718.599.0069
maps: google | hopstop | yahoo
/// This month, AFRO-DUB SESSIONS celebrates its ONE-YEAR ANNIVERSARY with special guest DJ CARTER VAN PELT, host of WKCR 89.9FM's "Eastern Standard Time" Jamaican music show, and MCs K VIBES and WILLOW WILSON. We'll also have two live performances by SUPER HI-FI and sets by SLF resident DJs LINH, Q-MASTAH and LIL TIGER. The party is FREE and starts at 10pm.
This is the last of our parties at Rose Live Music, but it's NOT the last of Afro-Dub Sessions. We'll be taking the party to varying locations from here on out. In the meantime, come celebrate with us a great one-year run at Rose! ///
featuring special guests:
[[ DJ CARTER VAN PELT ]]
( WKCR's Eastern Standard Time )
[[ K VIBES ]]
( K Vibes on facebook )
[[ WILLOW WILSON ]]
w/ resident live Afro-Dub band:
[[ SUPER HI-FI ]]
( Super Hi-Fi on Facebook )
and SLF residents:
[[ DJ LINH ]]
[[ DJ LIL TIGER ]]
[[ Q MASTAH ]]
/// About the artists:
DJ CARTER VAN PELT hosts WKCR 89.9FM's "Eastern Standard Time", a Jamaican music program that airs live every Saturday from 6-10 a.m. The show highlights roots reggae of the '70s and early '80s, Rocksteady from the mid '60s and Ska from the early '60s. Carter also co-hosts the weekly Roots Rock Reggae party at Motor City Bar, and organizes the popular Coney Island Reggae Soundsystem parties, one of which SLF co-hosted this past summer.
K VIBES has been singing reggae professionally for nearly 20 years. She was one of the last of a new generation of Brooklyn-based reggae artists to record for iconic Jamaican record producer Clement "Coxsone" Dodd, scoring a cult-hit with "Frenemies" in 2001.
WILLOW WILSON was widely recorded at the height of Brooklyn's digital reggae/dancehall era in the mid/late 1980s. His voice can be heard on dozens of recordings, including a full length self-titled LP, made primarily for Whitfield Henry's prolific Witty's label. His latest release, a cover of Bob Marley's "Slave Driver" for Taitu Records, reveals his strong affinity for singer Dennis Brown.
SUPER HI-FI, whose sound combines elements of Afrobeat and Dub, is a five-piece collective that features members of Aphrodesia, Slavic Soul Party, People's Champs, and the Blue Man Group.
About Afro-Dub Sessions:
AFRO-DUB SESSIONS is dedicated to the idea that Dub, born in Jamaica, and African musical styles like Afrobeat, Afropop and Afrofunk are natural partners in the origins of global dance music. Each month SLF explores these connections by hosting a different guest DJ specializing in Dub or African-influenced styles.
The first Afro-Dub Sessions kicked off at Rose Live Music on January 30, 2010, and since that time has featured the talents of Victor "Ticklah" Axelrod, Sal P of Liquid Liquid, Amir (of Kon and Amir), Deadly Dragon Sound, Subatomic Sound System, Bastard Jazz's DJ DRM, Awesome Tapes From Africa, DJ Afro-Marc, Hahn Solo of Dub Is a Weapon, DJ Chicus of Redbud Records, Mr. Chatman, Victor Rice and more. ///
+ facebook event page
+ going.com: www.going.com/afrodub_oneyear
+ eventful: bit.ly/eHmqH8
+ culturemob: bit.ly/ecXXB7
+ upcoming: bit.ly/gdbO1u