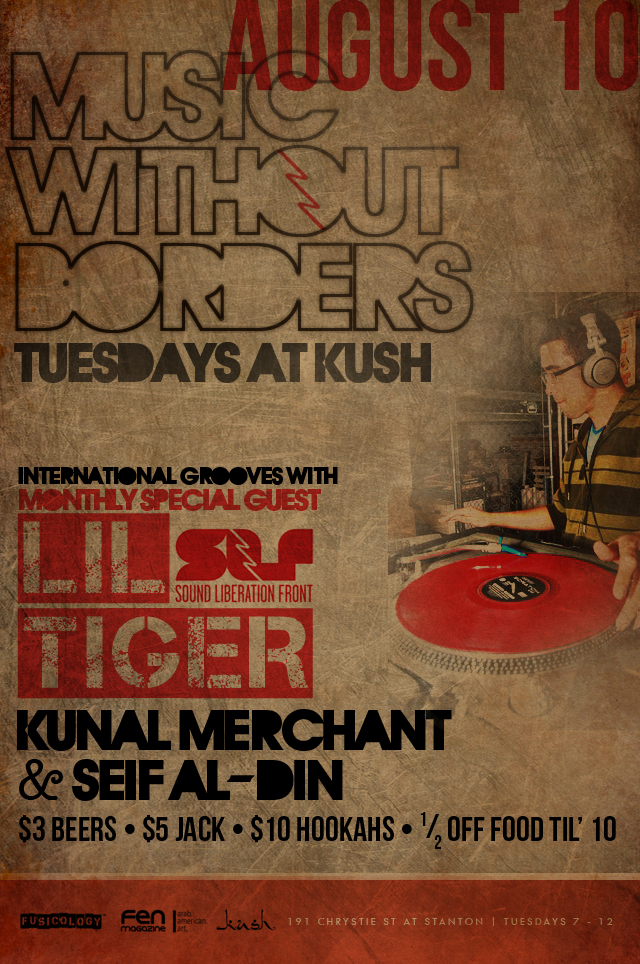 After the success of the first SLF/SoundLib Edition of the Music Without Borders party at Kush, Kunal and Seif decided we should make it a monthly. Thus, I'll be spinning there tonight to get the ball rolling on our new monthly collabo, and I'm pretty damn geeked about it.
The party starts early at 7pm and it's FREE the whole night. Musically, we'll take you on ride across the globe with an eclectic mix of international sounds, while Alberto holds court on some serious domino action.
Of coures, we'll have drink specials ($3 beers, $5 jack) lined up, along with some bomb tacos and lamb sliders and other eats. Plus, there will be hookahs ($10 until 10) to get your tasty buzz on.
It's gonna be a laid back vibe with great music and hella cool folks, so stop by after work and give us a shout.
[[ MUSIC WITHOUT BORDERS: SOUNDLIB EDITION ]]
TUESDAY | 10 AUG 2010 | 7p-12a | NO COVER | No dress code
@ Kush Lounge
191 Chrystie St @ Stanton
Lower East Side
212.677.7328
F to 2nd Ave / J to Bowery
featuring residents:
[[ KUNAL MERCHANT ]] + [[ SEIF AL-DIN ]]
( Music Without Borders )
and special guest:
[[ DJ LIL TIGER ]]
( –=(] buhbOmp [)=–, Sound Liberation Front, touch&feel:radio )