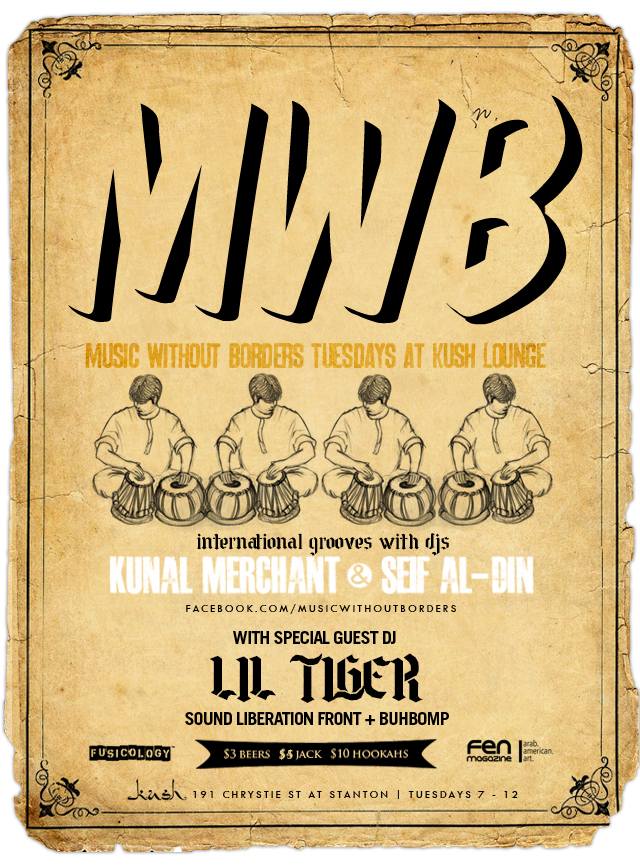 Here's a special treat for you: Our Music Without Borders fam recently started a FREE weekly party on Tuesdays at Kush Lounge, and this week, they've invited us to put a special SoundLib touch to the night. I'll be doing a guest set spinning some international/world type joints and Bert will be hosting.
Resident DJs Kunal Merchant and Seif Al-Din are the masterminds behind this party, and they'll be throwing down some dope music. These dudes know how to put together a quality evening. They got drink specials lined up, tacos and lamb sliders for the grubbing, and dominoes games will be in full effect for folks who know what's really real.
In Kunal's words:
We're hoping to build a really laid back vibe, treating it almost like a second home. Kush's manager, Steve (you should meet this guy!), has agreed to create some great deals for us, offering patrons $3 beers, $5 jack and $10 hookahs til 10pm every night. The food is very unique and delicious. Drinks are hand crafted, and I encourage you to challenge the bartenders to cook up something new every night!
I'm pretty geeked about this night. Stop through, drink some drank, eat some good grub and play some bones while getting down to some international grooves.
[[ MUSIC WITHOUT BORDERS: SOUNDLIB EDITION ]]
TUESDAY | 20 JUL 2010 | 7p-12a | NO COVER | No dress code
@ Kush Lounge
191 Chrystie St @ Stanton
Lower East Side
212.677.7328
F to 2nd Ave / J to Bowery
featuring residents:
[[ KUNAL MERCHANT ]] + [[ SEIF AL-DIN ]]
( Music Without Borders )
and special guest:
[[ DJ LIL TIGER ]]
( –=(] buhbOmp [)=–, Sound Liberation Front, touch&feel:radio )