'Tis the season and all, so 'tis Christmas music time here at buhbOmp as well.
I've spent enough time in my neighborhood grocery store and my laundromat to be sick to death of the standard holiday fare, which has been making my ears bleed since before Thanksgiving came around.
Need a respite from that shit? I know I do. That's where the homie MattSoReal comes in. He did an awesome "Mellow Out It's Christmastime mix" last year that we posted about here on the blog. This year, he's at it again, and he's expanded the concept to a series of mixes. He's got two of them up thus far, and they're both great.
He set it off last week with his "Thowed Christmas 2009 mix" and these poignant words to set the mood:
Yeah man, if you follow this blog, you know I have a pretty thowed collection of Holiday jams. All genres, mostly fucked up shit. …
Pretty much. Matt's always been a champion of not staying in his lane, and that's what I really love about dude.
This shit knocks. Peep: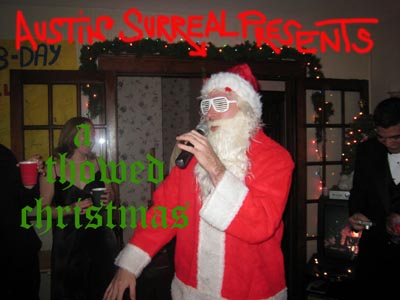 Thowed Christmas by Pushermania
¬ DOWNLOAD IT HERE (or click on the down-arrow at the far right of the preview above)
Here's the playlist:
AustinSurreal.com Presents THOWED CHRISTMAS – A Podcast By MattSoReal
Sweet Tee – Let The Jingle Bells Rock
Holiday Greetings from Chingo Bling
Disco 4 – He's Santa Claus
Coldcut's Christmas Break
Holiday Greetings from Devin the Dude
Bud Brothers – Dec. 25th
Run DMC – Christmas in Hollis
Holiday Greetings from Bun B
Stevie Wonder/Dipset – Someday at Christmas – DJ Jon Remix
Vince Guaraldi – Linus & Lucy – Pocket Knife Remix
Tomb Crew – Jingle Hells Bells
Holiday Greetings from Eternia
King Sun, D. Moet – Christmas in the City
Dorrough – I Want
Holiday Greetings from Peter Rosenberg
South Park – The Lonely Jew on Christmas
Eek A Mouse – Christmas A Come
Lee "Scratch" Perry – Santa Claus
Holiday Greetings from Lowkey
Afroman – 12 J's of Christmas
Dynamix 2 – Christmas Melody
Pee Pee Dynamite – Groovy Christmas & New Year
Tomb Crew – Jingle Hells Bells
Holiday Greetings from Baller Craig aka Craigger White
Matt just unleashed the second installment the other day, and this one takes a darker, slower, moodier turn. If I were a drinker, I'd be nursing a few whiskeys and chilling the fuck out to this one. I'm not a drinker, tho, so I'll have to settle for some herbal tea, 'cause that's how I do: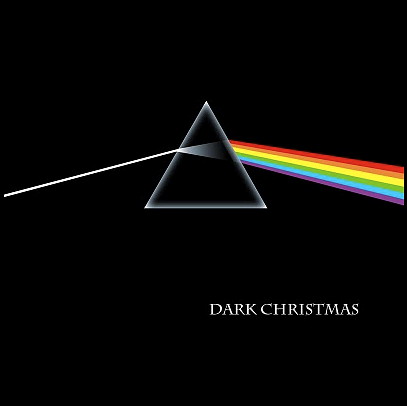 Here's the tracklist:
James Brown – Santa Claus, Santa Claus
The Staple Singers – Who Took The Merry Out Of Christmas
John Lee Hooker – Blues For Christmas
Holiday Greetings from Lucky Fonz III
Lucky Fonz III – Christmas Lights In A Cave
Loretta Lynn – I Won't Decorate Your Tree
Esquivel – Blue Christmas
Sufjan Stevens – Did I Make You Cry On Christmas?
Calexico – Gift Exchange
Ernest Tubb – Christmas Is Just Another Day For Me
The Emotions – What Do The Lonely Do At Christmas?
Holidays Greetings from Cosmo Baker
Damien Marley – Santa Claus (Do You Ever Come To The Ghetto?)
The Fall – No Christmas For John Queys
David Banner – It's Christmas Time (Jingle Bells)
Holidays Message From Killer Mike aka Mike Bigga
Killer Mike aka Mike Bigga – A Christmas Grind
Ying Yang Twins – Ho Ho Ho
Sharon Jones & The Dap Kings – Ain't No Chimneys In The Ghetto
Low – Little Drummer Boy
Eels – Christmas Is Going To The Dogs
source: [
AustinSurreal
]