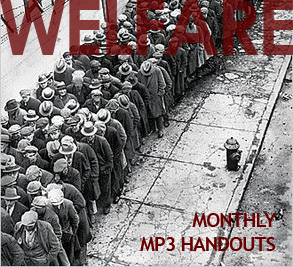 Holiday season is upon us, with the economy in shitsville and budgets already extended to the max, you know you need another Welfare handout. We got you.
jd | nom nom
Beck – Black Tambourine (South Rakkas Crew Remix)
1st off is a Beck remix (again).  This one is a South Rakkas remix of "Black Tambourine".  Pretty nifty.
T-Pain – bartender (b.cause spoonie 83 remix)
I never really got into this song, but this remix is right up my alley.  The God B.Cause pretty much always comes through.  This time with an old school Spoonie G vibe.
Outkast – Players Ball (jd Extended Mix) (92)
Seeing as this was originally a Christmas song, it seems appropriate.  I blended together the reprise and the remix vocal and added an inst intro for ease.
Beenie Man, Buju Banton, Mr. Vegas, Kymani Marley – party in session (jd – beastie boys blend)
I did this little blend a while back and recently found it again while going through a ton of music.  This original 12″ (if I remember correctly) was a little hard to find and came out on clear vinyl.  I put it over the "Hold it Now, Hit It" instrumental for a bass-heavy gig I was doing.  Came out alright.
Curtis Mayfield – We're A Winner (AYB Force Remix)
Lastly, I found this in my Obama folder from a gig I did right after election night.  Great remix of Curtis Mayfield's "We're a Winner" with some beefed up drums.  Done by these guys in Japan.
———-
dj lil tiger | holidays got me dizzy …
IG Culture – Consumed (Refit)
This is the dude. It's no secret I think IG is a genius. Favorite producer, hands down. More brilliant beat work, with word power to boot. Off the IG's Zen Badizm album released earlier this year.
Trus'me – Vibrations
Sick futuristic disco/house vibes from UK's Trus'me. Propers to Chicken George for putting me on to this.
Sleepy's Theme – Grind On
Oldie but goodie. Slept on side project of Organized Noize and the man Sleepy Brown. Off the classic The Vinyl Room album, which you need in your life.
Roger Riley & Teddy Troutman – Buck 'Em Down
"The Death of Autotune, one track at a time." You know you want more of this in your life.
Tego Calderon – Ni Fu Ni Fa
Don't let the name fool you, this shit is way better than "so-so." Trust. Tego slays.
———-
empanadamn | For the club | Serato ready
Black Milk "Give The Drummer Sum"
Some of that chunky Detroit boom…..bap from MC / producer Black Milk.
Jay-Z "Brooklyn (Go Hard)" Feat. Santogold
Sounds like "Swagga Like Us" featuring vocal sample by Santogold. Supposedly appearing on the NOTORIOUS sound track dropping next month(!)
Justin Timberlake "Magic"
Midtempo for the ladies. And me.
MGMT "Electric Feel" (Remix Feat. Jim Jones)
A little bit hip-hop, a little bit psychedelic-hippiester rock n' roll.
Noreaga "Rotate" (Feat. Ron Brows & Busta Rhymes)
On the run eating (and it shows), N.O.R.E. comes out the gate with that ol' WHAT! WHAT!