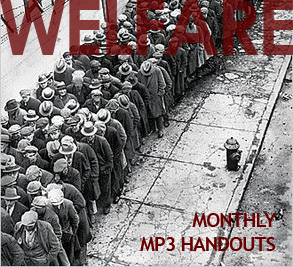 Just in time for the run up to Turkey Day, here's our latest Welfare handout of musical treats to help put some pep in your steps as you're elbowing your way to the turkey aisle at the supermarket.
dj lil tiger | bird feed …
SJOB Movement "Love Affair"
Some Nigeria disco funk to loosen up your feets.
Roy Ayer's "I Am Your Mind Part 2 (Sal's Nostalgia Edit)
Nice treatment by the man Sal Paradise. Peep more of his edits at his blog.
Roll Deep "Do Me Wrong"
I love me some Roll Deep, the East London crew that brought the world Dizzee and Wiley. This is a hot uptempo little club joint that's fun as hell.
Serani "Crying For Peace"
Consciousness from the man Serani of "No Games" and "Dying" fame. On the Merge riddim. Love this tune.
Peter Ram "Tight"
This is my mid-tempo soca jam of the moment. Been digging Peter Ram's Bajan sounds for a minute now.
download: Gobble, Gobble.
———-
cashless | Super Disco Backpack Rap Braekz4dayz
Ron Browz – "Jumpin"
Autotune, love it or hate it, it's not going anywhere for a while, at least if Ron Browz has anything to say about it. Kanye, T-Pain, Lil Wayne... Browz is the new king of autotune and unless you're willing to implant an Antares VST in your brain, you ain't putting autotune to more use than Browz. I'm not sure if dude has a real voice at all.
Q-Tip – "Move"
I know. I'm just as surprised as you are. I got tired of listening to the new authorities on "real hip hop." You know the ones. They always recommend one bland backpack rap lp after another. They lost me somewhere along the road. I'm not carrying the flag any longer. I'm now somewhere between trying to see young ladies "Pop it 4 pimp" at the knucklehead 18 & up club and getting my grown and sexy on with people who's outfit at the club cost more than my rent. Somehow "Move" is exactly where I'm at.
Lil Wayne – "Mrs. Officer (Gregg Nyce/Estelle refix)"
I don't know what to tell you. The G&S set goes crazy for this blend and so do I. So there.
(**EDITOR'S NOTE: Cashless accidentally put the original version of this tune instead of the refix in his zip file. He's spinning right now, but will sort all that out afterward, so stay tuned for the correct version soon)
**Update of the update** The corrected version is now located below.
Trina feat Killer Mike – "Look back at me"
I'm dropping a recurrent here. Nothing new or anything. I'm really digging the intermingled screwed adlibs, but what really makes me flip is seeing women act out the lyrics on the dancefloor. This song is so nasty that it makes ME blush.
Rihanna – "Disturbia (Emynd's Finally Blend)"
Outside of her looks, I haven't been feeling much Rihanna lately. That doesn't mean that her output can't be salvaged. Emynd of CrossfadedBacon.com and Nolabounce.com comes strong to save what's normally an unlistenable cut.
download: Dave, drop a load on em…
Addendum: Lil Wayne – "Mrs. Officer (Gregg Nyce/Estelle refix)

———-
jd – fellin myself
Platinum Pied Pipers – "Try Me"
I like this song and have always dug their production
Meshell N'degecocello – "Hot Night"
Same here.  One song with Talib that I can actually enjoy
Ming and FS – "Kings County"
A great tribute to a great borough.
Raphael Saadiq – "Get Involved (Remix)"
I used to play this record all the time, and this remix definitely delivers.
Self Scientific "The Return"
Strap on your back pack for this underground classic.
———-
empanadamn | Starvin' like Marvin…
DJ Yoda "Food" (Feat. Edan)
A cutty & paste ode to vittles (tender if you please).
Weird Al "Eat It"
This 110% grade A classic helped shape my sense of humor as a child (and grown-ass man of today).
Goodie MOB "Soul Food"
"FUCK CHRIS DARDEN! FUCK MARSHA CLARK!"
AMG "Jiggable Pie"
2 (big) slices plaese.
Weird Al "Fat"
"Yo, Ding-Dong, man. Ding-Dong, yo."
Bonus *eat (Take a nap. Wake up and do it all over again)
Fat Boys "All You Can Eat"
Yes, I have eaten at this location.
Download: Grace.