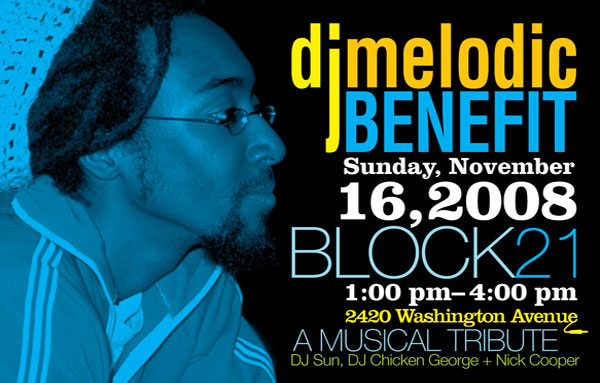 Last Monday, a good friend of mine and one of the most compassionate, soulful and talented people I know, DJ Melodic, had a cardiac arrest and fell into a coma. He has since come out of the coma (thank goodness), but is still in the intensive care unit at St. Luke's Hospital in Houston. Every person I know who has met or worked with Melodic in any capacity vouches for how good a dude he is. His passion for music and DJing has been an inspiration to me in all the years that I've known him.
Melodic is a gentle, hard-working and young dude. The fact that this happened to Melodic, a vegan who is determined to keep all things toxic out of his system, has really shocked a lot of people. Life is precious, and even the most careful among us can fall ill.
We continue to monitor the developments with his condition. Friends in Houston are organizing a benefit on his behalf to help him cover the medical costs of his recovery. I've included all that info below.
Even for those not able to attend or contribute to the benefit, Melodic and his family are accepting donations online at the link below:
Any contribution, no matter how small, would be a great help, especially in these tough times. Even if it's just a few dollars. EVERY LITTLE BIT COUNTS.
Check out the benefit info below, and please keep Melodic in your thoughts and prayers.
Thanks.
————————
"A genuine good guy"
"A great dj and great, positive person"
"A truly positive dude"
These and many other quotes like those are what people who have been touched by Paco aka Ben Jennings IV aka DJ Melodic express when they think of the person, the dj, friend. His gentle and positive spirit has touched many. His humility is unmatched.
On November 2nd Paco suffered cardiac arrest. He is currently at St. Luke's Hospital in critical condition.
Paco's close friends are organizing a raffle and musical benefit event to offset medical expenses and support his family during this difficult time. We need your support to make it a success.
ABOUT PACO
Paco came to Soular Grooves and entered the Houston DJ community with the same genuine positive spirit and humility that so many describe about him. He learned as much as he could about dj-ing from as many as he could and applied those characteristics to his vast knowledge of music, to become one of the most respected, well-liked, and precision-like djs in Houston. His aesthetic is unique and contributes to creating an uncompromising signature of sounds that have no match. To listen to Paco, DJ Melodic, as he deejays, is to be taken on a course of great music that blends together seamlessly and continuously. All his selections, he intuitively knows, belong together. It is a truly joyful experience to listen to him and watch him perform.
HOW YOU CAN HELP
1) MARK YOUR CALENDAR AND PLAN TO ATTEND THE DJ MELODIC BENEFIT – A MUSICAL TRIBUTE & VERY COOL RAFFLE
Soular Grooves and Paco's friends and family invite you to join us for a beautiful Sunday afternoon benefit filled with music, family and fun prizes. Paco's closest friends DJ Sun, DJ Chicken George and Nick Cooper will perform a musical tribute.
Plus, you can purchase raffle tickets and win some of the coolest things from shops like Barney's Co-op, Sloan/Hall, Peel Gallery, Melodrama, Betsey Johnson + gift certs from restaurants and bars including Boheme, AvantGarden, Dolce Vita and much more!
Light bites will be provided by La Strada and Stir-It-Up Coffee House.
November, 16, 2008
1-4PM
@ Block 21
2420 Washington Ave.
Houston, TX 77246
Event Tickets are $10, available at the door only
Raffle Tickets are $5 each or 5 for $20.
Thank you to Ziggy at Block 21 for generously offering to donate a portion of the event proceeds to support the cause.
2) MAKE A CASH DONATION
We have set up a ChipIn account for anyone wishing to make a donation. Please consider making a contribution of any amount you can. Every bit helps!
3) CONSIDER CONTRIBUTING AN ITEM FOR OUR RAFFLE
Raffle items are specialty services, memberships, or gifts, gift certificates, art works,
event tickets, food items, music, apparel, electronics, holiday items, etc.
Businesses who have already donated include: MFAH, CAMH, Aerosol Warfare Gallery, Diverseworks, Barney's Co-op, Starbucks, Dolce Vita, Boheme Cafe & Wine Bar, La Strada, AvantGarden, YogaOne just to name a few.
To donate a raffle item, download this form (.pdf).
and send it to Tina Zulu by Wednesday, November 12th at tinazulu at zulucreative.com
4) SPREAD THE WORD!