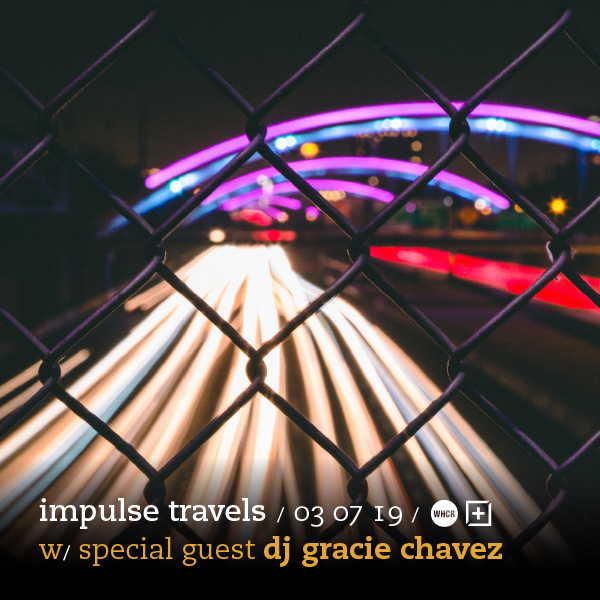 impulse travels radio. episode 347. 03 july 2019.
special guest: dj gracie chavez (bombón | rukaz cultura | houston)
Check out the latest episode of DJ Lil Tiger and Empanadamn's Impulse Travels Radio Show on WHCR 90.3fm in Harlem and Traklife Radio in downtown L.A.

» OR DOWNLOAD HERE «
( pc: right-click and save as / mac: option-click )
photo: Hazard Bridge. Houston. | by Matt Antonioli via Unsplash.
Our 7/3 episode features a guest Impulse mix by DJ Gracie Chavez (Bombón | Rukaz Kultura | Houston), featuring songs by Fresco + All Day Ray + Chingo Bling (Brownsville + ATX + Houston), Nicole Bus + All Day Ray (Nederland + Curaçao + ATX), Jabair (Philly), Snoh Aalegra + JRCO (Stockholm + Bay Area), Ding Dong + WaxFiend (Kingston + Amsterdam), Pharrell + Jay-Z + Pasquinel (Virginia + BK + Amsterdam), Jarreau Vandal x Jaël + Fuzz (Maastricht + Amsterdam + Switzerland + Antwerp) and more.
You can check out her mix here:
The show also features tunes from Cassius (Paris), Midas Hutch + Kaleem Taylor + Tony Tritone + B. Bravo (Amsterdam + London + Den Haag + Los Angeles), Future Girlfriend Music (Paraguay), Fred Falke (France), Silver Richards (ATL), Yung Bae (PDX), ファンクGroove-FM (Japan), Night Tempo (Seoul), Pad Chennington + ev.exi (Murrica + Glasgow), India Jordan (London), Lizzo + Breakbot (Alief + Minneapolis + France) and more.