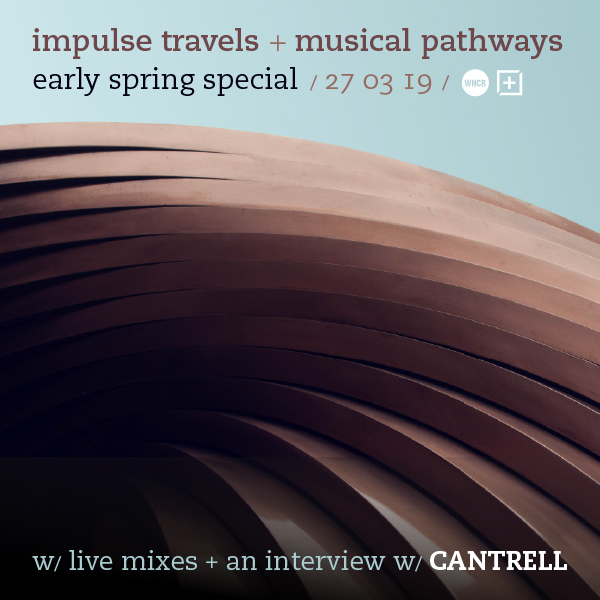 impulse travels radio + musical pathways. episode 333. 27 march 2019. part two.
seven-hour early spring special feat. live mixes + an interview with cantrell
Check out the latest episode of DJ Lil Tiger and Empanadamn's Impulse Travels Radio Show on WHCR 90.3fm in Harlem and Traklife Radio in downtown L.A.

» OR DOWNLOAD HERE «
( pc: right-click and save as / mac: option-click )
photo: Brisbane City. Australia. | by Nkululeko Jonas via Unsplash.
Impulse Travels and Musical Pathways combined on 3/27 for a seven-hour Early Spring Special, featuring an interview with CANTRELL [ Mass Appeal Records | Albany, Ga. ], live mixes and a bunch of good tunes.
Here's part two featuring live mixes from EMPANADAMN and DJ LIL TIGER.
The full show features music from TOKiMONSTA + Ambre (Los Angeles), Jordan Rakei (Brisbane + London), Maverick Sabre + Chronixx (UK + JA), Tom Misch + De La Soul (UK + Strong Island), Brother Ali (Minneapolis + Madison), Nikki Jean + Jesse Royal + Beatnick + K-Salaam (St. Paul + Minneapolis + Jamaica), Amber Mark (NYC), Loyle Carner + Jordan Rakei (UK + Brisbane), Louis Futon + BXRBER (Philly + Los Angeles + London), Birthday Boy + Trish (Toronto), Sipho the Gift (South Africa), Berhana (ATL + Ethiopia), Chance the Rapper + Super Bwe + Forever Band (Chi), Branko + Miles from Kinshasa (Lisboa + London), LL Cool J (QNS), Noah Slee + Shiloh Dynasty + DKVPZ (New Zealand + Berlin + Brasil), Bibio (West Midlands), Joe Armon-Jones (UK), Yaeji (Flushing), Quantic (UK + BK), Roosevelt (Köln), Sammy Bananas (BK) and more.
Here's DJ LIL TIGER's live mix of broken beat classics and hidden gems from way back, including tunes from Boozoo Bajou + Joe Dukie + Seiji (Nürnberg + New Zealand + UK), Mark de Clive-Lowe + Domu (New Zealand + UK), 1Luv (Seattle), Franck Roger + Chris Wonder (Paris), Jazzanova + Vikter Duplaix (Germany + Philly + Los Angeles), Hird (Göteborg), Rednose Distrikt + Alma Horton + DJ Spinna (Amsterdam + Philly + BK), 4 Hero (West London), Jazztronik (Japan), Julie Dexter + Jazzanova (UK + Germany), The Realm + V + Yukihiro Fukutomi (NYC + Japan), Jayda G + Alexa Dash (Canada + Berlin) and more.