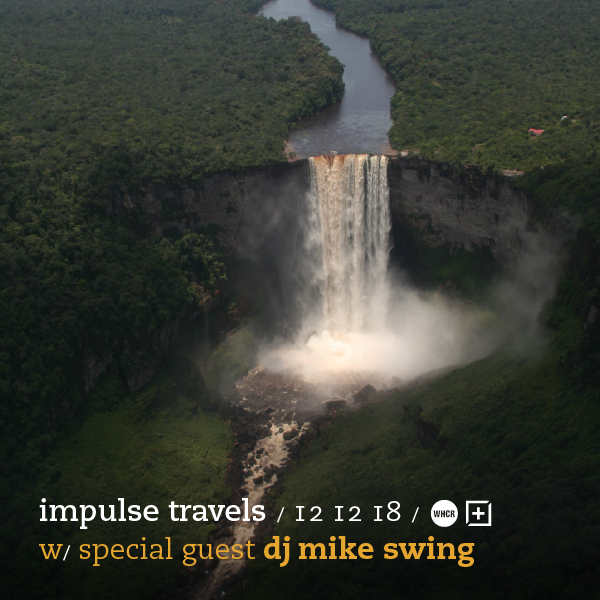 impulse travels radio. episode 318. 12 december 2018.
special guest: dj mike swing
Check out the latest episode of DJ Lil Tiger and Empanadamn's Impulse Travels Radio Show on WHCR 90.3fm in Harlem and Traklife Radio in downtown L.A.

» OR DOWNLOAD HERE «
( pc: right-click and save as / mac: option-click )
photo: Kaieteur falls. Guyana. | by Cody Hinchliff. licensed under a Creative Commons Attribution-NonCommercial 4.0 International License.
Our 12/12 episode feature the return of DJ MIKE SWING [ atx ], who laid down a smooth IMPULSE MIX of classic and current soul, funk, hip-hop and R&B. The show also features tunes from Berhana (ATL + Ethiopia), Zilo (London), Brownout (ATX), Louis Cole (Los Angeles), Anchorsong (Tokyo + London), Captain Planet (Los Angeles + BK), Hot 8 Brass Band (New Orleans), Peggy Gou + Jamal Moss (Berlin + Korea + Chi), Nikki Jean + Lupe Fiasco (St. Paul + Chi), Chloe x Halle + Joey Bada$$ (ATL + BK), Bakar (London + BK) and more.
You can check out MIKE SWING's Impulse Mix below featuring songs from Mayer Hawthorne + DJ Jazzy Jeff (Los Angeles + Philly), Khalid + Kue (El Paso + SF), The Internet (Los Angeles), Oliver + Chromeo (Los Angeles + Montréal), Shock + U-Tern (PDX + Vancouver), DJ Illo + Ryan Leslie (Ottawa + D.C.), Leon Bridges (Fort Worth), KAPTN (New Mexico), Tuxedo + Kaytranada (Los Angeles + Seattle + Montréal), Curtis Lee (Peoria + ATX), Fat Larry's Band (Philly) and more.