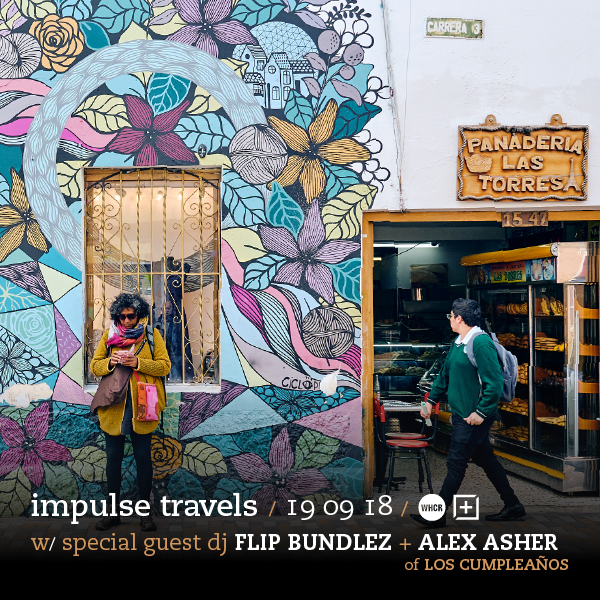 special guest dj: westside flip
+ interview with and music from: alex asher of los cumpleaños
impulse travels radio. episode 314. 19 september 2018.
Check out the latest episode of DJ Lil Tiger and Empanadamn's Impulse Travels Radio Show on WHCR 90.3fm in Harlem and Traklife Radio in downtown L.A.

» OR DOWNLOAD HERE «
( pc: right-click and save as / mac: option-click )
photo: Bogota, Colombia. | by Pedro Szekely. licensed under a Creative Commons Attribution-NonCommercial 4.0 International License.
Our 9/19 show features a live impulse mix by FLIP BUNDLEZ aka WESTSIDE FLIP, and an interview with and music from ALEX ASHER of LOS CUMPLEAÑOS.
The show also features tunes from Molly Tigre (BK), People's Champs + Starr Busby + Melanie Charles (BK + Houston), Pete Philly (Nederland), Lord Echo (New Zealand), Anchorsong (Tokyo), Thornato + Bajah (QNS + Sierra Leone), Swarvy + MNDSGN + Nia Andrews (Los Angeles + Philly) and more.
You can check out Flip's mix below featuring songs from Omar Souleyman (Syria), Olamide (Nigeria), Wizkid (Nigeria), El Alfa (República Dominicana), MC G15 (Rio De Janeiro), Mergui (Israel), Shelow Shaq (República Dominicana + NYC), The Juan Maclean (Providence), El Gran Combo de Puerto Rico (PR), Wilfrido Vargas (Puerto Plata), Starboy (Nigeria) and more.