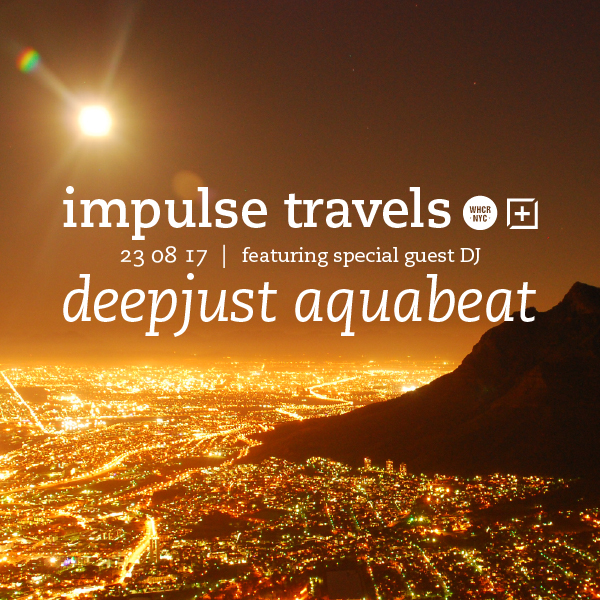 special guest: deepjust aquabeat (getopen sessions)
impulse travels radio. episode 266. 23 august 2017.
Check out the latest episode of DJ Lil Tiger and Empanadamn's Impulse Travels Radio Show on WHCR 90.3fm in Harlem and Traklife Radio in downtown L.A.

» OR DOWNLOAD HERE «
( pc: right-click and save as / mac: option-click )
photo: Reading the urban landscape from the evening. Cape Town. South Africa. | by Aaron Brown. licensed under a Creative Commons Attribution-NonCommercial 4.0 International License.
Our 8/23 episode features a live Deep House Impulse Mix special guest DJ DeepJust AquaBeat, as well as music by Jimpster (UK), Ninetoes (Berlin), Fish Go Deep (Ireland), Amber Mark (NYC), Thornato + Kongo Elektro (QNS + Cape Town), Orezi (Nigeria), The Funkees + The Busy Twist (Nigeria + NYC), Popcaan + Davido (Jamaica + Nigeria) and more.
You can check out Deep Just's Impulse Mix below featuring music from Black Coffee + Thiwe + Manoo + Francois Aymonier (South Africa + UK), Abstrkt Afriken + Ade Alafia Adio + Oscar P (Maryland + Nigeria + Amsterdam + NYC), DJ Kemit + Choklate + Ancient Deep (ATL + Seattle), Julius The Mad Thinker (Chicago), Kuniyuki Takahashi (Sapporo), Wouter de Moor (Amsterdam), Jordan Rakei + KCIV (Brisbane + UK + Rennes), Rebel Tumbao + Ron Trent (NYC + Chicago), Kemdi (NYC), and Robert Glasper Experiment + Bilal (Houston + NYC + Philly) as well as some unreleased exclusives and some of his own productions.
soundcloud.com/deepjust
facebook.com/GetOpenSessions
getopensessions.podomatic.com