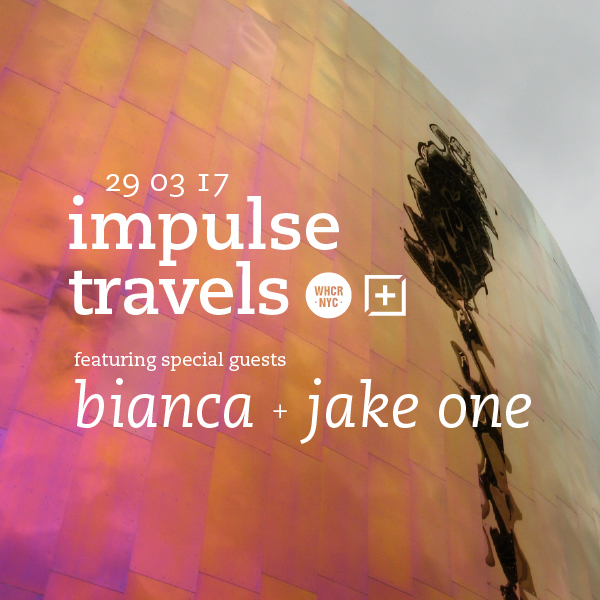 special guest dj bianca ( bk / l.a. )
+ an interview with producer jake one ( seattle ) of tuxedo.
impulse travels radio. episode 248. 29 march 2017.
Check out the latest episode of DJ Lil Tiger and Empanadamn's Impulse Travels Radio Show on WHCR 90.3fm in Harlem and Traklife Radio in downtown L.A.

» OR DOWNLOAD HERE «
( pc: right-click and save as / mac: option-click )
photo: Seattle. | by Colin Urbina. licensed under a Creative Commons Attribution-NonCommercial 4.0 International License.
This was a special extended (4-hour) episode featuring a guest live IMPULSE MIX by DJ BIANCA and an interview with versatile producer JAKE ONE of TUXEDO.
The show features tunes from Goldlink + Mya (D.C.), Midas Hutch (Amsterdam), Amber Mark (NYC), Omar + Floacist (UK), Lord Echo + Mara TK (New Zealand), Peggy Gou (Korea + Berlin), Nao + Kaytranada (UK + Montréal), CRi + Odile Myrtil (Montréal), Sylvan Esso + Demo Taped (N.C. + ATL) and more, including new tracks from Tuxedo (Seattle + L.A.).
You can listen to BIANCA's mix below featuring songs from Ravyn Lenae (Chicago), Anderson .Paak (Los Angeles), Joey Bada$$ (BK), A Tribe Called Quest + Busta Rhymes (QNS), Bosq + Kaleta (Boston + Benin + Lagos), Tears For Fears (UK), Eli Escobar (NYC), Janet Jackson + Classixx (Gary + Los Angeles), Björk (Iceland), Andy Polk + Jaymo + Nate (Los Angeles), Spycc + High Hoops (New Zealand), Phantogram (NYC), Theophilus London + Sara Quin (BK + Trinidad + Calgary) and more.
And here's our interview JAKE ONE showcasing some new TUXEDO tracks.