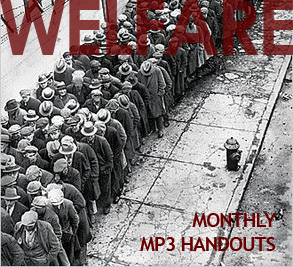 It's the middle of the month, and with the economy still in the shitter and getting shittier by the day, it's time for another handout from the generous souls here at buhbOmp HQ. And like all good bureaucracies charged with overseeing the well-being of its needy constituents, we're a day late and a DJ short. While Cashless is in Japón brokering peace between the Jamaicans and Japanese, Empanadamn and Lil Tiger got the goods to hold you over 'til the first rolls back around. Try not to spend it all in one place:
empanadamn | Halloween treats
Bernard Herrmann "Opening Credits" of Psycho
Herrmann is a big dude in film scoring, serving up sounds of the scary, sinister, and suspense. From the classic Psycho, DJ Scratch used this composition in Busta Rhymes' "Gimme Some More"
Castlevania "Stage One"
The first level ditty to one of my most favoritest video games ever in the whole wide world. Simon Belmont got whip appeal.
Mike Oldfield "Tubular Bells"
Virgin Records first official release that topped the charts for some time in the UK. The album, mostly instrumental, implemented a lot of sounds never recorded on such a successful release. The title track was also popularized by the film The Exorcist.
Mötley Crüe "Shout At The Devil"
As a child, this song kinda scared the shit out of me, being about yellin' at the devil and all. But my brother was jammin this, so I guess it was OK. Out of all the Crüe, I liked Mick Mars because he looked like a short Alice Cooper. Factoid: Vince Neil is part Mexican. Thanks to Guitar Hero, people everywhere now rejoice in Satan and don't even realize it, so nothing out of the ordinary.
RJD2 "The Horror"
I'm not a big fan of the dude, but RJD2's got a couple of bangers. This is one makes me envision a montage for 70s slasher flick for a diabolical doctor dude who's really not a doctor, but a school nurse assistant who's not quite right.
*Bonus bOmp*
DJ Qbert "Alcohol Razorblade Slide"
My favorite track and scene from "Wave Twisters". The line, "he separated the skull and masturbated in front of it," is a sound-bite referencing Jeffrey Dahmer (I think)
download: Candy with a razorblade in it. Shhh.
dj lil tiger | get a job, grouch!
H.I.S.D "Break of Dawn"
On of my favorite tunes from the talented Hueston Independent Spit District crew making moves in my hometown. Off their dope Summer Sessions album.
Solange f. Q-Tip "Sandcastle Disco (Remix)"
Because I never tire with showing Houston love, here's another Space City product with some strong drums and a feel-good vibe. Solange showing she can hold her own.
Monareta "Me Voy Pal Mar"
I'm loving the dub/electronic flare and the nice edits in this tune from this Bogotá duo. Colombia holding it down.
Aretha Franklin "Jump To It (Prince Klassen Young Professional Re-Edit)"
Killer rework straight out the heart of Texas. Austin's Prince Klassen def keeping the parties movin'.
Jermaine Jackson "Erucu"
Since we're taking it back a bit, here's a raw disco classic that should bring out the beast in you.
download: This ain't no government cheese