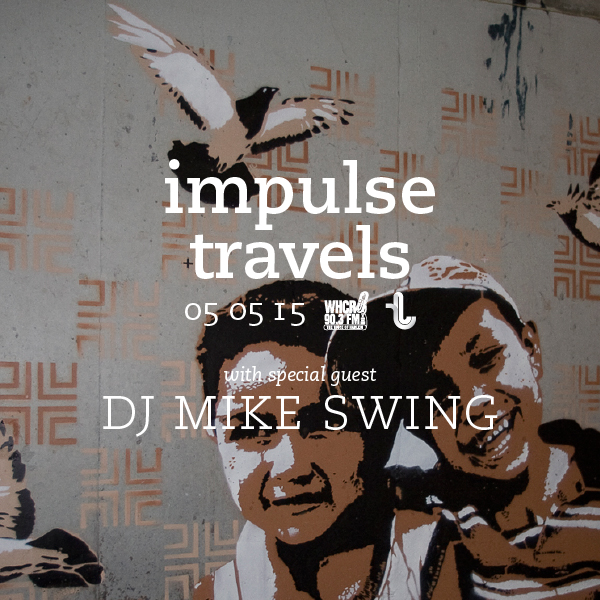 special guest: dj mike swing
impulse travels radio. episode 176. 12 may 2015.
Check out the latest episode of DJ Lil Tiger and Empanadamn's Impulse Travels Radio Show on WHCR 90.3fm in Harlem and Traklife Radio in downtown L.A.
[audio:https://s3-us-west-2.amazonaws.com/podpulse/impulse.150512-.mp3|titles=dj lil tiger + dj mike swing. impulse travels. 12 may 2015.]

» OR DOWNLOAD HERE «
( pc: right-click and save as / mac: option-click )
photo: Día de la madre. Esténcil – Cárcel distrital de mujeres. Bogotá. Colombia. | by -Dj Lu- Juegasiempre. licensed under a Creative Commons Attribution-NonCommercial 4.0 International License.
This week we were geeked to have longtime homie DJ MIKE SWING stop by the studio to wax nostalgic about our time together running shows at KVRX in Austin back in the 90s. He also blessed us with a superdope live mix of Hip-Hop, R&B, Soul, House, Dance and more.
The show also featured tunes from Little Dragon (Swedden), Gramatik + Raekwon + Orlando Napier (NYC), Hiatus Kaiyote (Australia), Raye + Lucian (UK + NYC), Moods x Siam (Nederland + België), Willie Colón + Hector Lavoe + Nguzunguzu (NYC + PR + L.A.), Rainy Milo (UK), Parker Madicine (Milan), Mura Masa (UK), Phantoms + Nicholas Braun (L.A. + NYC), Daktyl + SPZRKT + Gillepsy (UK + Georgia), Seven Davis Jr. (Houston + Cali), Faith + Booty Fade (NYC + Dallas), Wiley (London), Kali Uchis (Colombia + Virginia) and more.
You can check out DJ MIKE SWING's live impulse mix below featuring songs from New Edition (Boston), Analog Players Society + Cecilia stalin (BK + Sweden + London), Krraftwerk (Germany), Phony PPL + Louis Futon (BK + Philly), MC Lyte (BK), Pete Rock and C.L. Smooth (Mount Vernon), Mary J. Blige (NYC), Donae'o (London), Shaun Escoffery + DJ Spinna (UK + BK), George Duke + Kid Goodman (Cali + Russia) and much more.