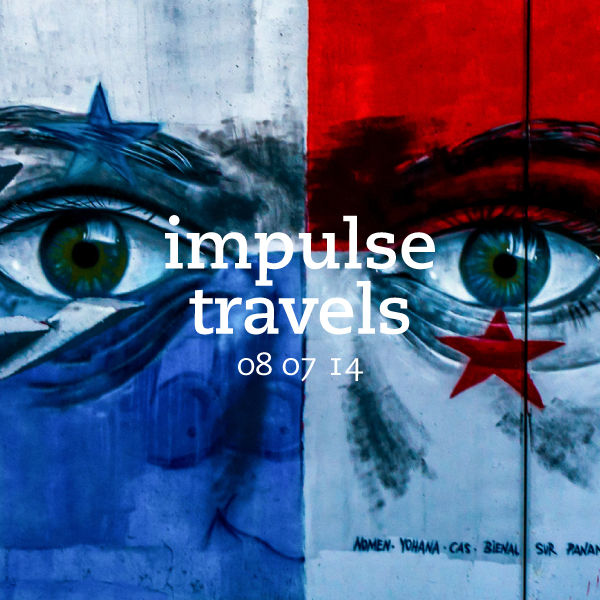 Check out the latest episode of DJ Lil Tiger and Empanadamn's Impulse Travels Radio Show on WHCR 90.3fm in Harlem.
impulse travels radio. episode 140. 08 july 2014.
[audio:http://buhbomp.com/impulse/impulse.140708.mp3|titles=dj lil tiger + empanadamn. impulse travels. 08 july 2014.]
» DOWNLOAD HERE « ( pc: right-click and save as / mac: option-click )
photo: Street art. Ciudad de Panamá. Panamá. | by BORIS G. licensed under a Creative Commons Attribution-NonCommercial 4.0 International License.
This show featured special selections from Empanadamn to highlight artists performing at the Latin Alternative Music Conference (LAMC) which took place in New York that same week.
Empanadamn's LAMC segment included tracks from Los Rakas (Panamá + Oakland), Bodega Bamz (DR + PR + Spanish Harlem), Ana Tijoux + Sonora (Chile + France + San Anto), Caloncho (Guadalajara), Santé Les Amis (Uruguay), False Witness + Dubbel Dutch (NYC + ATX), Chicano Batman (L.A.), Chief Boima + Uproot Andy (Sierra Leone + BK + Brasil), 2Melo (QNS), (me llamo) Sebastián (Chile), Forro in the Dark (NYC + Brasil), Celia Cruz + Willie Colón + Canyon Cody + Captain Planet (Cuba + PR + BX + L.A.), Tony Toca + Total (PR + BK + Brookdale), Atropolis + Carol C (QNS) and the Beatnuts (DR + Corona + Jackson Heights + Colombia).
The show also featured new music from Princess Nyah (UK), Trio Temira + Aroop Roy (Tokyo + UK), Melty (Sydney), Roses Gabor (UK), Usher + Yam Who? (ATL + Dallas + ?), Moiré (London), Odesza + Madelyn Grant (Seattle + Michigan), Banks + Lido (L.A. + Oslo), MICK + Chi Duly (Ohio + NYC), Toddla T + Danny Weed + Jammer (UK) and Linden Jay (UK), as well as tunes from Wookie (UK), Pomo (Montréal), Little Dragon (Sweden) and Kaytranada (Montréal).