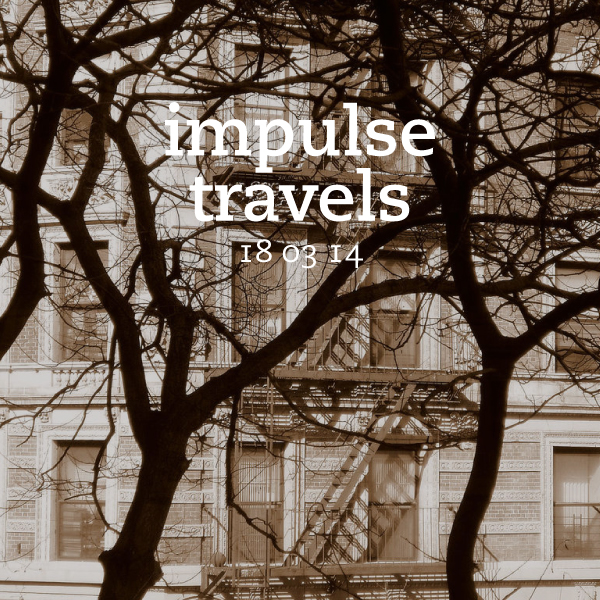 Check out the latest episode of DJ Lil Tiger and Empanadamn's Impulse Travels Radio Show on WHCR 90.3fm in Harlem.
impulse travels radio. episode 124. 18 march 2014.
[audio:http://buhbomp.com/impulse/impulse.140318.mp3|titles=dj lil tiger + j. salaam. impulse travels. 18 march 2014.]
» DOWNLOAD HERE « ( pc: right-click and save as / mac: option-click )
This week we had a special guest stop through the studio: fellow Soular Grooves extended fam and Houston soulful dance don J. Salaam. He blessed us with a killer soulful house set, featuring tunes from Zaki Ibrahim + Kid Fonque + DJ Whisky (South Africa), Kerri Chandler (Jersey), Osunlade, Ayro + Spinna (Detroit + NYC), Cajmere (Chicago), Donae'o (UK), Luisito Quintero + Louie Vega (PR + NYC), Karizma (Bmore) and much more.
The show also featured new music from Domu (UK), Jazzanova + Paul Randolph + Kuniyuki (Germany + Detroit + Japan), OBaH (NYC), Anita Vokill + Mista Chatman (Indy + Seattle), The Heatwave (UK) and Tensnake + Fiora (Germany + Tasmania), as well as tracks from Lord Echo + Lisa Tomlins (New Zealand), Tour de Force (BK), Reva Devito + B. Bravo (Portland + Cali), Anushka (UK), Quadron + Classixx (Denmark + L.A.), Ashley Beedle (UK) and more.
photo: Harlem. NYC. USA. | by David Goehring/CarbonNYC.