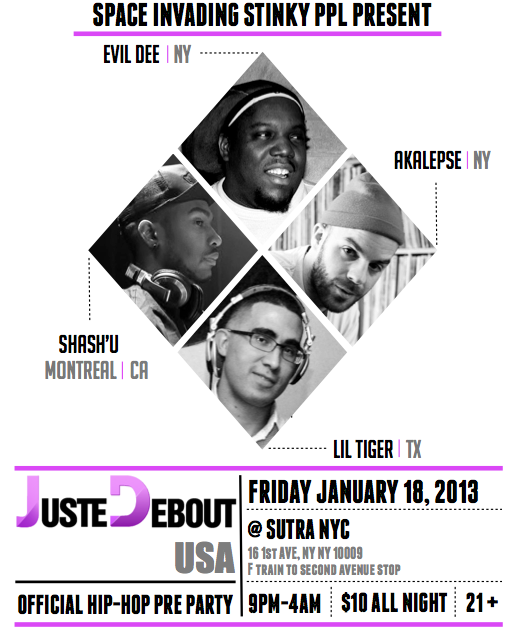 Juste Debout is back in New York this week, and what a better way to start things off than with some dope Hip-Hop with the legendary DJ EVIL DEE of Da Beatminerz/Black Moon. I'll also be spinning, along with DJs Akalepse and Shash'U.
Here's the info:
Space Invading Stinky Ppl present …
[[ JUSTE DEBOUT USA OFFICIAL HIP-HOP PRE-PARTY ]]
FRIDAY | 18 JAN 2013 | 9p-4a | $10
@ Sutra
16 1st Ave
between 1st and 2nd Streets
Lower East Side, NY, 10009
212.677.9477
F train to 2nd Ave » google | hopstop
w/ DJs:
EVIL DEE | NY
Rocksteady Crew, Da Beatminerz, BlackMoon, Boot Camp Click, Blackstar, De La Soul, Flipmode Squad…….ladies n gentlemen we could go on all night with this. The list of accomplishments and people that this brotha has worked with is phenomenal. The music he is apart of is a piece hip hop history. There is no way to explain it you have to witness it and we are EXTREMELY pleased to have him bless the wheels for us all.
AKALEPSE
Truth & Soul records' own Akalepse has been in the Dj scene since 1993. Previous legendary APT club resident, you might have seen him on stage with the likes of KRS-One, Cypress Hill, Kenny Dope, DJ Spinna, Lord Finesse, J-Rocc, DJ Scratch, & Just Blaze to name a few. He's currently running the well respected weekly party PROPS along with Philly-bred Dj Rich Medina.
SHASH'U | MTL (CA)
Montreal-born producer and DJ, Shash'U has been getting worldwide attention since 2009, mostly through his beat productions, largely used in international dance competitions. He's been opening for artists such as ?uestLove, DJ Premier, Dibia$e, Blu & Exile.
LIL TIGER | NYC/TX
Caribbean-born, Houston-raised DJ Lil Tiger, is the host of IMPULSE TRAVELS, an international music show on WHCR 90.3fm in Harlem from 3-6am ET on Tuesday mornings. He cultivates his soulful sound from a blend of r&b, funk, disco, house, broken beat, soca, dancehall, afro-latin rhythms and Hip-Hop. The Queens-based Arubian DJ is founder of BuhbOmp.com, and co-hosted two of Texas' seminal underground Hip-Hop shows, the House of Phat Beats (Austin/KVRX) and the Dolla Holla Show (Austin/KO.OP).