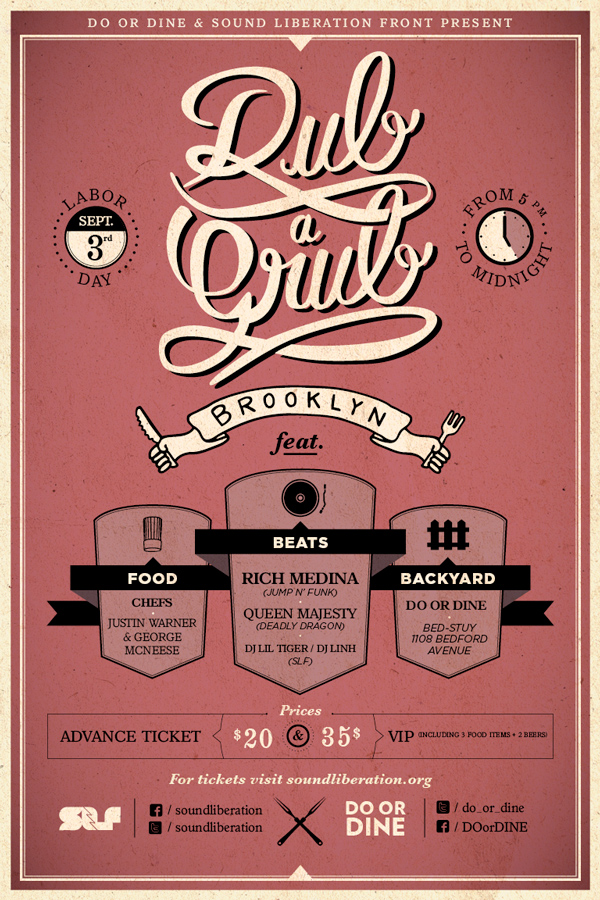 This Labor Day, the good folks at SLF will team up with Brooklyn culinary hot spot DO OR DINE in Bed-Stuy to bring you a special food-meets-music treat, a new party called RUB-A-GRUB, with special guests RICH MEDINA and QUEEN MAJESTY. I'll also be doing an early set, as will fellow SLF music nerd DJ LINH.
For those who don't already know, RICH MEDINA is a living legend in the DJ scene. Famous for his Jump 'n' Funk and Little Ricky's Ribshack parties (among many others), he's also known for his exhaustive knowledge of music and deep record collection. SLF fam Eilon Paz interviewed and photographed Rich as part of Eilon's awesome Dust and Grooves photo project and website, which features famous diggers and their record collections.
The photo above is part of that project. You can check out more of Eilon's work, and the full interview with RICH MEDINA on the Dust and Grooves site.
At RUB A GRUB, Rich will be taking the party on a sonic journey through hip-hop, house, Afrobeat, funk and soul.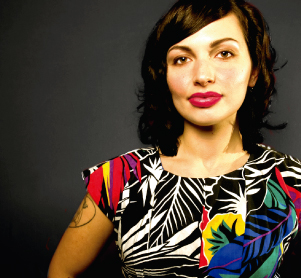 QUEEN MAJESTY is no slouch with the records either, having collected reggae vinyl for 16 years. As one of the members of NYC's famed Deadly Dragon Sound, her reggae music expertise is unquestioned. She hosts the weekly "Jamaica Rock" show on East Village Radio, and will be blessing us with some amazing reggae tunes on Labor Day.
SLF's DJ LINH should be known to the Sound Liberation faithful from her sets at AFRO DUB SESSIONS and the CONEY ISLAND REGGAE BEACH PARTY, among others. A crate digger in her own right, she's also an exceptional singer, musician and total badass.
Of course, yours truly, DJ LIL TIGER, host of WHCR 90.3fm's weekly Impulse Travels Radio Show will also be on the decks adding some soulful Caribbean-influenced dance vibes to the mix, and generally bringing the motherfucking ruckus.
In addition to quality music, the event will showcase the creative culinary delights that has made DO OR DINE one of the most talked about restaurants in Brooklyn. There will be a special menu designed by chefs GEORGE McNEESE and JUSTIN WARNER, who was recently crowned the winner of "Food Network Star" Season 8. For more on budding superstar Warner, peep his bio video on Food Network.
The RUB-A-GRUB menu will include several appetizer selections as well as beer and cocktail specials.
All-in-all, it's gonna be a night packed with exceptional food and great music. Space is limited, so buying tickets in advance is highly recommended.
$20 advanced ticket
$35 VIP ticket (includes 3 food items + 2 drinks)
Tickets available at: brownpapertickets.com or soundliberation.org
Here's the detailed info:
Do or Dine + Sound Liberation Front present:
[[ RUB-A-GRUB feat. RICH MEDINA + QUEEN MAJESTY + SLF DJs ]]
@ Do or Dine in Bed-Stuy
MONDAY | 03 SEP 2012 | 5p-12a | $20 adv | $35 vip
Do or Dine
1108 Bedford Avenue
Brooklyn, New York 11216
718.684.2290
G to Bedford-Nostrand » google | hopstop
music by:
+ RICH MEDINA (Jump n' Funk)
+ QUEEN MAJESTY (Deadly Dragon)
+ DJ LIL TIGER (SLF)
+ DJ LINH (SLF)
food by DO OR DINE chefs:
+ JUSTIN WARNER
+ GEORGE McNEESE