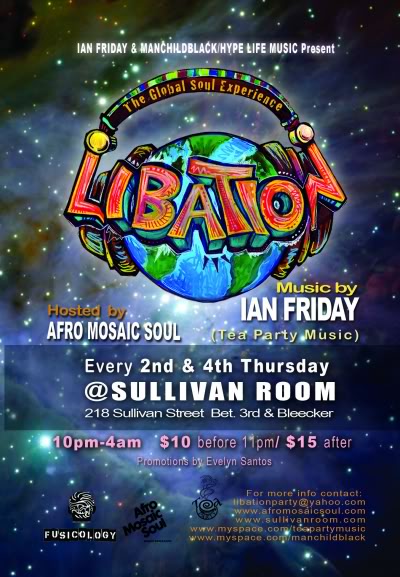 A SPECIAL PLACE…A SPECIAL TIME…A SPECIAL CELEBRATION!!!!
IAN FRIDAY, MANCHILDBLACK & AFRO MOSAIC SOUL invite you to come out of the cold and heat up at the party Time Out New York calls "a full-on throwdown", LIBATION!
On Thursday, February 3rd, LIBATION will team up with B-BOY HODOWN to bring you the official opening party for the JUSTE DEBOUT Dance Competition being held for the first time in the USA! Expect to sweat alongside some of the best dancers from around the world who'll be in town for the special event. Libation's Global Soul messiah, IAN FRIDAY, will be joined on the decks by DJ LIL TIGER (Sound Liberation Front) who will rock his own eclectic mix of soul, funk and more!
NOT TO BE MISSED!!!!
Join the Libation Facebook Fan Page.
Check out Juste Debout here.
THURSDAY, FEBRUARY 3rd
IAN FRIDAY & MANCHILDBLACK/HYPE LIFE MUSIC
In Association w/B-BOY HODOWN
Present
LIBATION
(The Global Soul Experience)
***OFFICIAL JUSTE DEBOUT OPENING PARTY***
w/ IAN FRIDAY
(Tea Party Music)
& Special Guest
DJ LIL TIGER
(Sound Liberation Front)
Hosted by
AFRO MOSAIC SOUL
@ SULLIVAN HALL
214 Sullivan Street
Bet. 3rd & Bleecker
NYC
A,C,E,B,D,F,V to W. 4th
212.252.2151
12-4am
$15 ($10 with Juste Debout pass)
–> Facebook invite <-- For a sip of Libation:
For more on Juste Debout, check out their youtube clips.