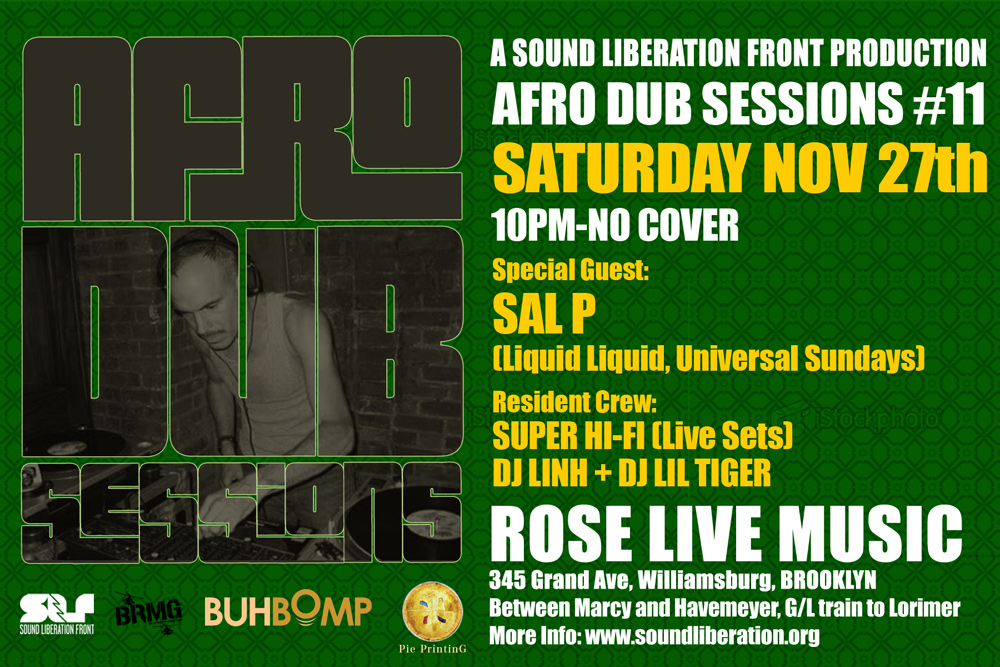 Sound Liberation Front + The BRMG + buhbOmp presents:
[[ AFRO-DUB SESSIONS ]]
Sounds of the Rhythm R(evolution)
SATURDAY | 27 NOV 2010
(and every last Saturday of the month)
10p-4a | NO COVER | No dress code
@ Rose Live Music
345 Grand Street
Brooklyn, NY 11211
– Between Marcy Ave. and Havemeyer St. in Williamsburg
– G/L train to Lorimer or the L to Bedford)
718.599.0069
maps: google | hopstop | yahoo
/// This month, AFRO-DUB SESSIONS welcomes SAL P from the legendary early 80's "No Wave" band LIQUID LIQUID for a featured DJ set. We'll also have two live performances by SUPER HI-FI and sets by SLF resident DJs LINH and LIL TIGER. The party is FREE and starts at 10pm.
About the artists:
Best known as the lead singer and percussionist of the highly influential New York group LIQUID LIQUID, SAL P has been active in the NYC music scene for three decades. Liquid Liquid's three groundbreaking EP's from 1981-84 on 99 Records forged a template of minimalist funk, dub and world music mixed with punk energy that has been followed by countless bands. Famously, their song "Cavern" was used as the basis for Melle Mel and Grandmaster Flash's hit "White Lines" in 1983. Liquid Liquid broke up in 1984 but reformed in 2008 and continues to perform. Since 1999, SAL P has hosted "Universal Sundays," a regular party at various NYC nightspots featuring African and Caribbean music.
SUPER HI-FI, whose sound combines elements of Afrobeat and Dub, is a five-piece collective that features members of Aphrodesia, Slavic Soul Party, People's Champs, and the Blue Man Group. ///
featuring:
[[ SAL P of LIQUID LIQUID ]]
( Liquid Liquid on Facebook, Liquid Liquid on Myspace )
w/ resident live Afro-Dub band:
[[ SUPER HI-FI ]]
( Super Hi-Fi on Facebook )
and SLF residents:
[[ DJ LINH ]]
[[ DJ LIL TIGER ]]
+ facebook event page
+ going.com: www.going.com/afrodub_nov27
+ eventful: bit.ly/aTSF8L
+ culturemob: bit.ly/a4ztc3
+ upcoming: bit.ly/ccfb5E