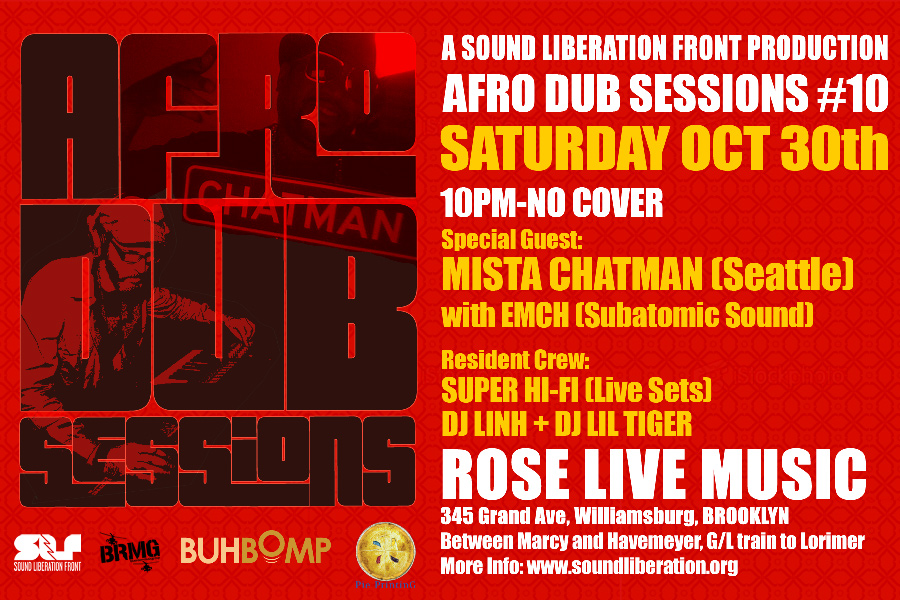 Sound Liberation Front + The BRMG + buhbOmp presents:
[[ AFRO-DUB SESSIONS HALLOWEEN PARTY ]]
Sounds of the Rhythm R(evolution)
SATURDAY | 30 OCT 2010
(and every last Saturday of the month)
10p-4a | NO COVER | No dress code
@ Rose Live Music
345 Grand Street
Brooklyn, NY 11211
– Between Marcy Ave. and Havemeyer St. in Williamsburg
– G/L train to Lorimer or the L to Bedford)
718.599.0069
maps: google | hopstop | yahoo
This month, we've got a special Halloween edition of AFRO-DUB SESSIONS. Seattle-based ragamuffin-style MC MISTA CHATMAN will be our special guest alongside DJ EMCH from SUBATOMIC SOUND SYSTEM. We'll also have two live performances by SUPER HI-FI and sets by SLF resident DJs LINH and LIL TIGER. The party is FREE all night long, so come celebrate Halloween weekend with the SLF crew. Costumes are encouraged.
About the artists:
MISTA CHATMAN is known for fusing his unique style of reggae toasting with Dubstep, Electronica, Hip-Hop, Bhangra and Dancehall productions. He has been featured on releases by DJ /rupture, Filastine, Poirier, Stereotyp and Meat Beat Manifesto, and he has performed with top reggae acts such as Yellowman, Barrington Levy, Collie Buddz, Mad Professor and Sly & Robbie. In Seattle, MISTA CHATMAN hosts his own Monday night reggae party called JAM JAM.
DJ and producer EMCH is the driving force behind New York's SUBATOMIC SOUND SYSTEM and Vienna's Dubblestandart. SUBATOMIC's latest full-length Chrome Optimism features the legendary Lee "Scratch" Perry and filmmaker David Lynch. The group's recent "Blackboard Jungle" remix with Perry and Jahdan Blakkamoore reached #1 on the UK dub charts.
SUPER HI-FI, whose sound combines elements of Afrobeat and Dub, is a five-piece collective that features members of Aphrodesia, Slavic Soul Party, People's Champs, and the Blue Man Group.
featuring:
[[ MISTA CHATMAN ]]
( Mista Chatman on Facebook )
[[ EMCH ]]
( Subatomic Sound System )
w/ resident live Afro-Dub band:
[[ SUPER HI-FI ]]
( Super Hi-Fi on Facebook )
and SLF residents:
[[ DJ LINH ]]
[[ DJ LIL TIGER ]]
+ facebook event page
+ going.com: www.going.com/afrodub_oct30
+ eventful: bit.ly/bLJpec
+ culturemob: bit.ly/afKyv9
+ upcoming: bit.ly/csLIru