This week at SOUNDLIB, we've got a special double-feature for you: Austin legends BROTHA K and DJ STARSIGN.
BROTHA K, aka THE OL' SKOOL GENIUS, is one of the pioneers of the Austin Hip-Hop scene and is known for his extensive knowledge and collection of classic Hip-Hop. BROTHA K was the mastermind behind the DOLLA HOLLA OL' SKOOL SHOW, originally a monthly showcase of old school Hip-Hop on DJ LIL TIGER's popular Dolla Holla radio show on KO.OP in the late 90s and early 2000s. BROTHA K became co-host of the weekly show after LIL TIGER's departure and has since solidified his status as one of Austin's most charismatic talents through his work as an on-air personality on commercial radio, a host on Magic video, and as a DJ at various hot spots around town. The Buffalo-native has been holding the torch for Hip-Hop in Austin for more than 20 years. It's a profound honor to have him join us at SOUNDLIB.
As if that weren't enough, we're also really excited to have DJ STARSIGN spin as well. The founder of the PARAKITACHI DJ crew (that featured DJs Chicken George, Melodic, Nick Nack, and LIL TIGER, among others), STARSIGN is one of Austin's premier tastemakers. His eclectic style and versatile sets span the depths of house, jazz, dub, electronica, funk, rap, disco, latin, ambient, blues and all things rooted in soul and dance.
STARSIGN's appearance with LIL TIGER at SOUNDLIB will mark the reunion of the SOUND ACADEMY, the duo's monicker from their days spinning soulful tunes in various spots around Houston in the early 2000s.
It's gonna be a historic night. As always, the party is FREE. We start and end EARLY (9pm-1am), so we won't keep you out too late. Hope to see you there. …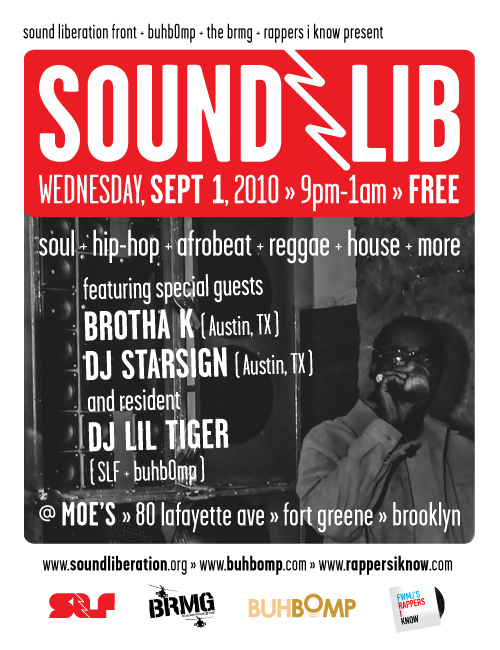 Sound Liberation Front + buhbOmp + The BRMG + Rappers I Know present:
[[ SOUNDLIB WEDNESDAYS ]]
WEDNESDAY | 01 SEP 2010 | 9p-1a | NO COVER | No dress code
@ Moe's
80 Lafayette Ave
Fort Greene, Brooklyn, NY, 11217
718.797.9536
C to Lafayette Ave / G to Fulton St
Also within walking distance from the Atlantic Ave station (B-Q-2-3-4-5 trains)
featuring:
[[ BROTHA K ]]
www.myspace.com/brothak
[[ DJ STARSIGN ]]
starsigndesign.com/dj.html
and resident:
[[ DJ LIL TIGER ]]
( –=(] buhbOmp [)=–, Sound Liberation Front, touch&feel:radio, Soular Grooves )
+ facebook event page
+ going.com: www.going.com/soundlib_sep01
+ eventful: bit.ly/9dcwYn
+ culturemob: bit.ly/dokcUm
+ upcoming: bit.ly/djh29g
+ coopr8: bit.ly/c27Pxf