DJ FNDOMNTL will be joining us this week at SOUNDLIB as part of his whirlwind NY tour. The New Orleans-native Austin party rocker and seasoned battle DJ is actually making his second appearance with us. He came through a while back and did a great unannounced set which guaranteed he'd be making a return the next time he came to NY.
A Hip Hop/Scratch DJ first and foremost, FNDO also has deep crates from a wide range of genres including Funk, Soul, Hip Hop (of all sorts and eras), Dirty South/Bounce Rap, Miami Bass, Baltimore Club, Juke, House, Glitch, Dubstep, Drum & Bass, Indie/Classic Rock, and the latest Top 40. FNDOMNTL's musical selection is superb, and his technical skills are absolutely not to be fucked with. Dude is a phenomenal DJ (and an all-around awesome dude), and we're elated to have him back.
DJ LIL TIGER will also be in the place with his trademark selections of soul (new and old), funk, Hip-Hop, afrobeat, reggae and much more.
As always, the party is FREE all night. We start and end EARLY (9pm-1am), so we won't keep you out too late. Hope to see you there. …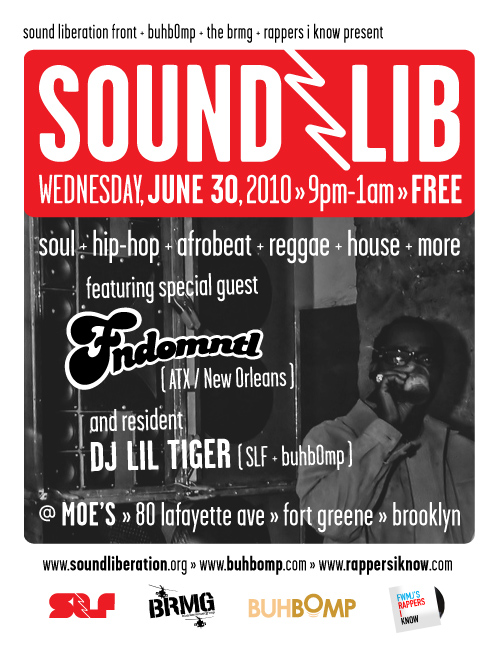 Sound Liberation Front + buhbOmp + The BRMG + Rappers I Know present:
[[ SOUNDLIB WEDNESDAYS ]]
WEDNESDAY | 30 JUN 2010 | 9p-1a | NO COVER | No dress code
@ Moe's
80 Lafayette Ave
Fort Greene, Brooklyn, NY, 11217
718.797.9536
C to Lafayette Ave / G to Fulton St
Also within walking distance from the Atlantic Ave station (B-Q-2-3-4-5 trains)
featuring:
[[ DJ FNDOMNTL ]]
( Austin / New Orleans )
and resident:
[[ DJ LIL TIGER ]]
( –=(] buhbOmp [)=–, Sound Liberation Front, touch&feel:radio, Soular Grooves )
+ facebook event page
+ going.com: www.going.com/soundlib_jun30
+ eventful: bit.ly/ao1Qzw
+ culturemob: bit.ly/bKPape
+ upcoming: bit.ly/aW6WJe
+ coopr8: bit.ly/aOoeqd