Okay, so this has been a long time coming:
This week at SOUNDLIB we're honored to feature special guest PROBE DMS from the production crew SPYMUSIC and from ELEVATIONS RADIO, the trailblazing broken beat radio show that we featured here back in October. The Brooklyn-born Harlemite has made a name for himself as a producer, DJ, engineer and MC and his music has gotten spins from such legends as DJ Spinna, Benji B (1xtra), Bugz in the Attic, and Dego MacFarlane (4 Hero), who loved PROBE's music so much, he picked up SPYMUSIC's cult-classic "Cloak" single for his renowned 2000Black label.
Not only is PROBE gifted on the decks (and the mic), but his depth of musical knowledge and skill is mind-blowing. His music and his sets are inspired by Hip-Hop, R&B, Broken Beat, rare groove, classics and all points in between, and his sets are always inspiring and forward-thinking. It's a real treat to have him come bless us at SoundLib.
Read up much more about PROBE and check out ELEVATIONS RADIO here:
www.elevationsradio.com
I'll also be on hand serving up soul (new and old), funk, Hip-Hop, afrobeat, reggae and much more. As always, the party is FREE all night. We start early and end EARLY (9pm-1am), so we won't keep you out too late on a weeknight. Hope to see you there. …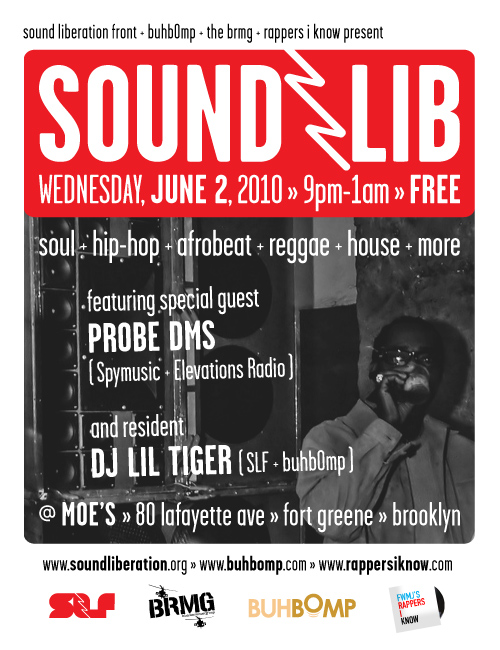 Sound Liberation Front + buhbOmp + The BRMG + Rappers I Know present:
[[ SOUNDLIB WEDNESDAYS ]]
WEDNESDAY | 02 JUN 2010 | 9p-1a | NO COVER | No dress code
@ Moe's
80 Lafayette Ave
Fort Greene, Brooklyn, NY, 11217
718.797.9536
C to Lafayette Ave / G to Fulton St
Also within walking distance from the Atlantic Ave station (B-Q-2-3-4-5 trains)
featuring:
[[ PROBE DMS ]]
( Elevations Radio, DMS Country, Spymusic )
and resident:
[[ DJ LIL TIGER ]]
( –=(] buhbOmp [)=–, Sound Liberation Front, touch&feel:radio, Soular Grooves )
+ facebook event page
+ going.com: www.going.com/soundlib_jun2
+ eventful: bit.ly/cfu611
+ culturemob: bit.ly/aW1r45
+ upcoming: bit.ly/b2GqHt
+ coopr8: bit.ly/bgm9Sd
more info:
+ www.buhbomp.com/updates/?p=4270
==========
SOUND LIBERATION FRONT is a Brooklyn-based non-profit organization devoted to the power of music as a socially liberating and unifying cultural force. More importantly, we want to liberate your ass on the dancefloor. Our previous productions include the Sound Liberation Festival '09 in Brooklyn and the Soundlib parties at Moe's in Fort Greene.
+ check out the SLF Blog: www.soundliberation.org
+ Join the SLF movement: www.facebook.com/soundliberation
==========