We've got a special lineup this week at SOUNDLIB:
UPDATE: Unfortunately, DJ STRIKE isn't going to be able to spin with us due to a death in the family. Condolences to him and his fam.
DJ REAMS has invited his friend DJ PHONOZONE to step in as a last minute substitute. For more on PHONOZONE check out: www.blacknaga.com
Brooklyn's DJ STRIKE, best known for touring extensively with De La Soul and also as the official tour DJ for Dres (of Black Sheep) and Butta Verses, will be showing off some of his superb party-rocking skills.
DJ REAMS is a South Florida-native Brooklynite and veteran Hip-Hop DJ who has been putting his extensive music knowledge to use helping hard-working artists get paid for their efforts through music licensing and publishing.
As always, the party is FREE, and starts at 9pm. Hope to see you there.
Details below.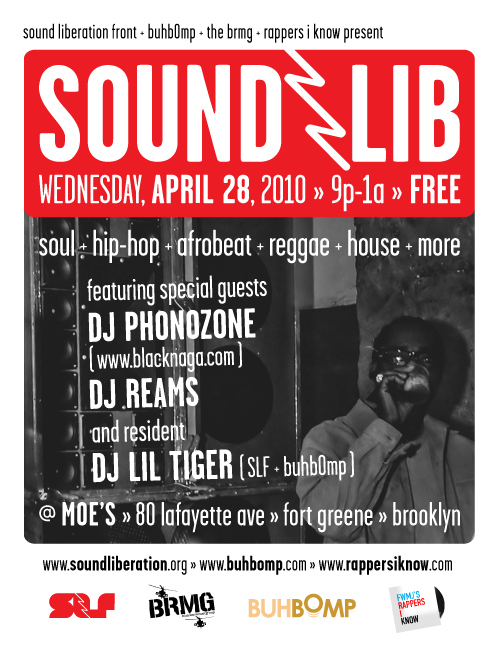 Sound Liberation Front + buhbOmp + The BRMG + Rappers I Know present:
[[ SOUNDLIB WEDNESDAYS ]]
WEDNESDAY | 28 APR 2010 | 9p-1a | NO COVER | No dress code
@ Moe's
80 Lafayette Ave
Fort Greene, Brooklyn, NY, 11217
718.797.9536
C to Lafayette Ave / G to Fulton St
Also within walking distance from the Atlantic Ave station (B-Q-2-3-4-5 trains)
featuring special guests:
[[ DJ PHONOZONE ]]
( www.blacknaga.com )
[[ DJ REAMS ]]
and resident:
[[ DJ LIL TIGER ]]
( –=(] buhbOmp [)=–, Sound Liberation Front, touch&feel:radio, Soular Grooves )
+ facebook event page
+ going.com: www.going.com/soundlib_apr28
+ eventful: bit.ly/9D8Ldz
+ culturemob: bit.ly/9YAKL1
+ upcoming: bit.ly/bvj8EZ