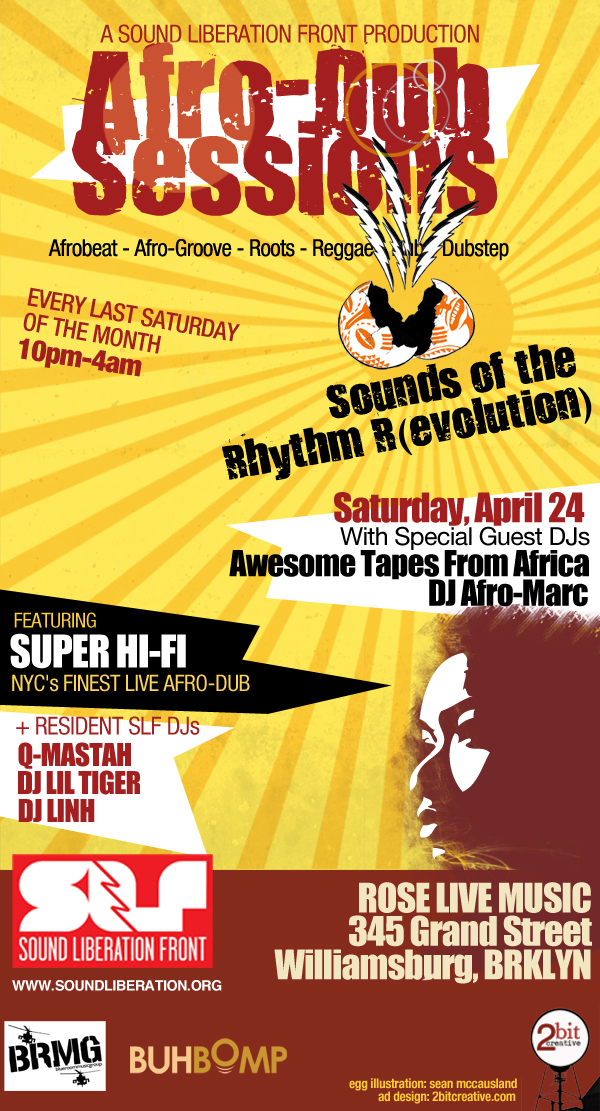 Sound Liberation Front + The BRMG + buhbOmp presents:
[[ AFRO-DUB SESSIONS ]]
Sounds of the Rhythm R(evolution)
SATURDAY | 24 APR 2010
(and every last Saturday of the month)
10p-4a | NO COVER | No dress code
@ Rose Live Music
345 Grand Street
Brooklyn, NY 11211
– Between Marcy Ave. and Havemeyer St. in Williamsburg
– G/L train to Lorimer or the L to Bedford)
718.599.0069
maps: google | hopstop | yahoo
/// This month at AFRO-DUB SESSIONS we're proud to present featured guest DJ BRIAN SHIMKOVITZ of AWESOME TAPES FROM AFRICA.
After a stint in Ghana researching Hip-Hop music, Brian has accumulated thousands of cassette tapes of rare African music from Zimbabwe to Ethiopia to Senegal. He has been sharing his bounty through his popular blog and his DJ mixes, both of which have been featured in Fader, XLR8R, The Wire, The Guardian, and The Village Voice.
In keeping with the African spirit of the night, DJ AFRO-MARC of the acclaimed AFROBEAT BLOG will also stop by to play some choice Afrobeat and global music cuts from his collection.
As usual, the night features two performances by SUPER HI-FI, the resident Afro-Dub band which has been packing the house with their creative melding of Afrobeat and Dub.
SLF resident DJ's LINH, Q-MASTAH and LIL TIGER will keep the party popping on the decks. And of course, the party is FREE all night long. ///
featuring:
[[ BRIAN SHIMKOVITZ of AWESOME TAPES FROM AFRICA ]]
( Awesome Tapes from Africa blog )
w/ resident live Afro-Dub band:
[[ SUPER HI-FI ]]
( w/ members from Aphrodesia, Slavic Soul Party, The Superpowers and Blue Man Group )
plus special guest set by:
[[ DJ AFRO-MARC ]]
( The Afrobeat Blog )
and SLF residents:
[[ DJ LINH ]]
[[ Q-MASTAH ]]
[[ DJ LIL TIGER ]]
+ facebook event page
+ going.com: www.going.com/afrodub_apr24
+ eventful: bit.ly/bENEqf
+ culturemob: bit.ly/cZBluK
+ upcoming: bit.ly/9YtGnf