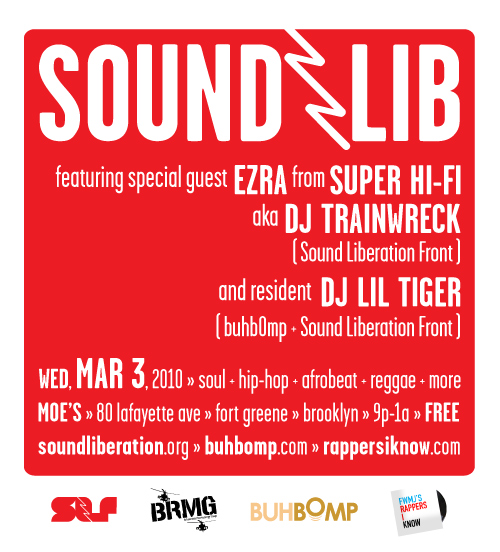 Sound Liberation Front + buhbOmp + The BRMG + Rappers I Know present:
[[ SOUNDLIB ]]
WEDNESDAY | 03 MAR 2010
9p-1a | FREE | No dress code
@ Moe's
80 Lafayette Ave
Fort Greene, Brooklyn, NY, 11217
718.797.9536
C to Lafayette Ave / G to Fulton St
Also within walking distance from the Atlantic Ave station (B-Q-2-3-4-5 trains)
/// This week at SOUNDLIB we're featuring a special guest DJ set from SLF's own EZRA of SUPER HI-FI, the Afro-Dub band that has been burning down the house each month at our Afro-Dub Sessions party. On the decks, Ezra prefers to be known by his tongue-in-cheek alter-ego, DJ Trainwreck, but don't let the name fool you. He's definitely got some HEAT, and he'll be mining his deep record collection for an all vinyl set of goodness.
Aside from fronting the sensational Super Hi-Fi, he also plays in the San Francisco-based afrobeat band Aphrodesia, and he writes for various publications, including the Village Voice. On the SLF blog, Ezra recently penned an excellent, critical response to the New York Times' mixed review of Fela! The Musical. You can and should read that here.
DJ LIL TIGER will also be on hand delivering his trademark selections of soul (new and old), Hip-Hop, afrobeat, house, reggae and much more.
As always, it's FREE all night. The party starts at 9pm. Hope to see you there. … ///
featuring special guest:
[[ EZRA from SUPER HI-FI ]]
( Super Hi-Fi, Aphrodesia, Sound Liberation Front )
and resident:
[[ DJ LIL TIGER ]]
( –=(] buhbOmp [)=–, Sound Liberation Front, touch&feel:radio, Soular Grooves )
+ facebook event page
+ going.com: www.going.com/soundlib_mar03
+ eventful: bit.ly/ckWitM
+ culturemob: bit.ly/auWFEH
+ upcoming: bit.ly/9FY1Uc