This week at SoundLib features special guest DJ, underground legend JAZE ART-REMOTE. The Puerto Rican Bronx-native and New York party veteran has built a name internationally through his funk, soul, disco and house mix CDs, and is a staple of the New York dance community with his frequent appearances behind the decks at Soulgasm NY and the House Dance Conference. He also holds it down for breakers and House Dancers at Houston's famous B-Boy Hodown.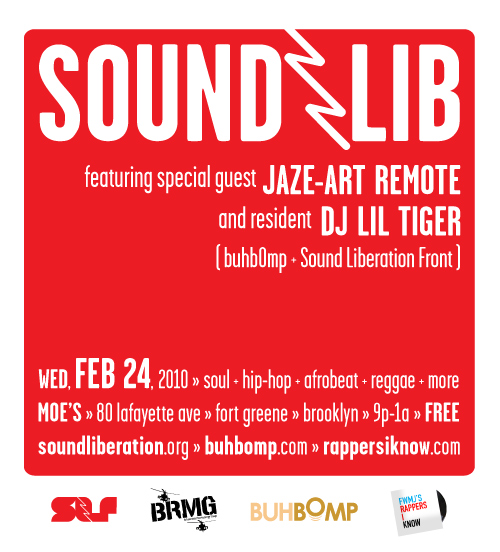 Cut from the cloth of NY's storied Hip-Hop block parties, JAZE has a lot of musical range, both on the decks and on the dancefloor. It's an honor to have him bless us with music this week at SoundLib, where we'll team up to deliver our trademark selections of soul (new and old), Hip-Hop, afrobeat, house, reggae and much more.
More on JAZE at the end of this post. Here's the necessary info on the party:
==========
Sound Liberation Front + buhbOmp + The BRMG + Rappers I Know present:
[[ SOUNDLIB ]]
WEDNESDAY | 24 FEB 2010
9p-1a | FREE | No dress code
@ Moe's
80 Lafayette Ave
Fort Greene, Brooklyn, NY, 11217
718.797.9536
C to Lafayette Ave / G to Fulton St
Also within walking distance from the Atlantic Ave station (B-Q-2-3-4-5 trains)
featuring special guest:
[[ JAZE-ART REMOTE ]]
"Your favorite underground DJ, whether you know it or not."
and resident:
[[ DJ LIL TIGER ]]
( –=(] buhbOmp [)=–, Sound Liberation Front, touch&feel:radio, Soular Grooves )
+ facebook event page | going.com | eventful | culturemob | upcoming
==========
Here's some more info on my man, Jaze:
Jaze-Art Remote: birth name Geraldo Torres (Jerry) is a true party-going New Yorker. Absorbing all of the flavors of being a Puerto Rican in New York party and night life from the late 70's to the present time, he has the mind and versitilty to express his emotions through his creativity in his dance and his DJ'ing.
Growing up in The Bronx with his family having parties for all occasions, he was exposed to the Salsa dances as well as the latest music and dances at the time. Disco, Funk, and Soul. Introduced to Jazz music by an older cousin, Jazz music was his first love in Music. Hanging out with other friends in the parks, he witnessed the early stages of Hip-Hop. The MCing, b-boying, beat-boxing, grafitti, and the block parties he instantly turned to aiming to be a DJ. Moving to Brentwood, Long Island, he discovered a new sound called House music. Soon he met his first two DJ mentors in House. Scott "Spoo" Wilson and Vincent "Chenzo" Hughes. After High School and serving his counrty, he returned back to the New York night life where he met Jeremias Santiago who became his 3rd and most inspiring DJ mentor. Jeremias taught him how to DJ in clubs and mix other music he loved such as Soul, Disco and Funk. Without being in the main light of the club scene, and dance scene, Jaze has made an influence with the main innovators in the field of Dance & DJing. His trade mark staements of "It's your Favorite Underground DJ, whether you know it or not" holds true. Through the help of many others, dance icons sell his mixes around the world, as well as here in New York. Through his talents at DJing, he has turned his hobby and love for music into a full-time career. He has guest appeared in the biggest dance gatherings such as B-Boy Hodown, House Dance Conference, and Soulgasm NY, and his DJing has brought him all over the world, including Stokholm, Brno, Prague, Bratislava, Amsterdam, Las Vegas, Los Angeles, Montreal, and many others.
He's more known throughout the nation and world through his mixed CD's, but when he does get a chance to expose his mixing talents, there is never anyone that is dissatisfied in his selction as well as his switch in genres in the many styles of music he selects to play. He will leave people feeling in a better and peacful mind when he is control in the DJ booth.
Keep a look out for the sayiong "Your favorite underground DJ, whether you know it or not: Jaze-Art Remote" and witness his DJing for yourself.