9Nov2009
posted by:
liltiger
| share this:



category:
Music
,
News
,
NYC
no comments yet.
Last month, I had the pleasure of attending one of the most remarkable sound system events I have ever seen: the legendary King Stur Gav Sound live and direct at Club Amazura in Jamaica, Queens.
My friend (and fellow SLF member) Q Mastah managed to get a press pass for the event and did a little write-up/photo essay on how the night went down that I wanted to share with y'all. Here's an excerpt:
Irish and Chin have been notorious for staging mega productions worldwide, the most legendary being their prestigious World Clash series held in New York, London, Jamaica and Antigua. With "Reewind: past meets the present", their concept was to combine a vintage rub a dub show headlined by the legendary King Sturgav Hifi with the star power of popular contemporary artists such as Capleton, Luciano and Beenie Man. The bill also advertised U-Roy, Brigadier Jerry, Charlie Chaplin, General Trees (all of whom were affiliated with the sound in its heyday) and Mighty Crown Sound who was entrusted with the task of warming up the audience. With such a stellar lineup, this was undoubtedly the most anticipated dancehall event of the year and it was clear that it was going to be a memorable night. …
To read the rest, you can check out the full recap on the Sound Liberation blog, including some of Q's dope photos from the night, and healthy bit of historical context.
For reference, here's the flier for the event: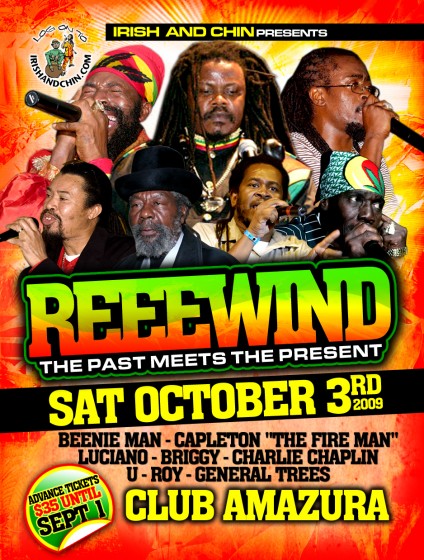 source: [
Sound Liberation Front
]