13Aug2009
posted by:
cashless
| share this:



category:
JD
,
Mixes
,
Music
1 comment.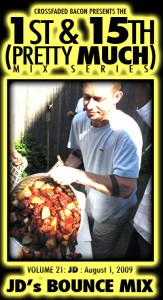 Our big dog homie and personal life mentor, JD, puts 2 in the air for CrossFaded Bacon's 1st and 15th mix series and Nolabounce.com with an old school Bounce mix.
Holleur at it, here.
Tracklisting:
01. Curtis Mayfield blend over Bunny Hop inst.
02. Da Entourage – Bunny Hop (they used to have Bunny Hop contests at Sharpstown mall, haha)
03. Ricky B – Ya'll Holla
04. BMD feat. Papa Reu and Juvie – Nasty Girl
05. Big Tymers feat. Bun B – Playboy
06. Kane and Abel feat. Mystikal – Shake it Like a Dog
07. Juvenile – Soldia Rag
08. Mystikal – Big Truck Driver
09. DJ Jubilee – Get it Ready (live version)
10. Everlasting Hitman – Bounce Baby Bounce
11. DJ Jimi – Where Dey At?
Vive le Cabo's on Richmond!