11Aug2009
posted by:
cashless
| share this:



category:
Mixes
,
NYC
no comments yet.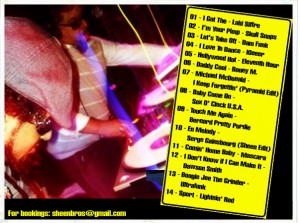 "Nothin' but that jherri curl funk all day everyday"
The Sheen Brothers is the one of the hottest collaborations out there right now! What started out as a not so serious idea and more of joke between Cosmo Baker (The Rub, NYC) and 4th Pyramid (Toronto) has turned into one of the freshest dance parties around. The Sheen Bros are a duo of slicked-out sleazesters that play greasy funk and drippy disco making ALL the ladies lose control! A twist on disco and funk the two have dubbed this new sound Scumbag Funk– Cosmo rocks the tables while Pyramid bangs it out on the MPD. Check out the first release from The Sheen Bros: Scumbag Funk Vol. 1, get greasy y'all!
Tracklist
01 – I Got The – Labi Siffre
02 – I'm Your Pimp – Skull Snaps
03 – Let's Take Off – Dam Funk
04 – I Love To Dance – Kleeer
05 – Hollywood Hot – Eleventh Hour
06 – Daddy Cool – Boney M.
07 – Michael McDonald – I Keep Forgettin' (Pyramid Edit)
08 – Baby Come On – Sex O' Clock U.S.A.
09 – Touch Me Again – Bernard Pretty Purdie
10 – En Melody – Serge Gainsbourg (Sheen Edit)
11 – Comin' Home Baby – Mascara
12 – I Don't Know if I Can Make It – Dawson Smith
13 – Boogie Joe The Grinder – Ultrafunk
14 – Sport – Lightnin' Rod
Want more? Of course you do. Over the next few months, the Brothers will be trading 30 minute volumes of Scumbag Funk, mix for mix, in an onslaught of awesomeness. Pyramid will be handing off the baton to brother Cosmo for Volume 2 of the prestigious Scumbag Funk series. Be on the lookout!
If you're in the NYC area on August, 15th, you can catch Cosmo Baker live at the Buhbomp sponsored 2009 Sound Liberation Festival.
Soooo good!