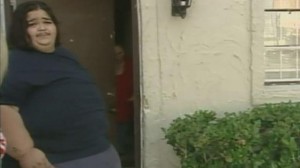 Whaaaaa? A 9mm handgun, 2 clips and a 6″ Subway sandwhich?! Ok, I lied about the sandwhich!
Sidenote: Houston ranks 6th on the nation's fattest cities list.
HOUSTON — A nearly 600-pound man was able to hide a weapon for more than a day while he was in custody, police told KPRC Local 2 Wednesday.
"Obviously the system broke down," former Harris County Detention Major Mark Kellar said. "The procedures didn't work as they were designed to work."

Houston police said George Vera, 25, was arrested Aug. 2 and taken to the city jail. He spent a day there before being transferred to the Harris County Jail. After being there for 14 hours, going through intake procedures, he was taken to the showers, the final step before going to his cell. There, Vera told police he had a 9mm handgun on him, along with 2 clips.

"If a person has a weapon, narcotics, anything of danger, it should have been found before he winds up in the county jail," said Kellar.

Kellar said Vera should have been searched at least three times before getting to the jail.

Vera weighs nearly 600 pounds and the gun was allegedly hidden between fat layers.

Houston Police Officers Union President Gary Blankinship said cadets are trained how to search morbidly obese people.

"We teach officers to lift up and look under," Blankinship said. "The officer may not have arrested anyone this big before."

Blankenship said that system clearly does not always work.

"They can be so big, basically short of strip searching or searching cavities, they could miss something like this," said Blankinship.

The Houston Police Department and Harris County Sheriff's Office are doing internal investigations to figure out how this could have happened.

Blankinship said they should also change the way officers are trained to search morbidly obese inmates, maybe adding hand-held metal detectors.

Vera has been released from jail on bond.